Anger > Mean! Angry Citizenz win Round 3
admin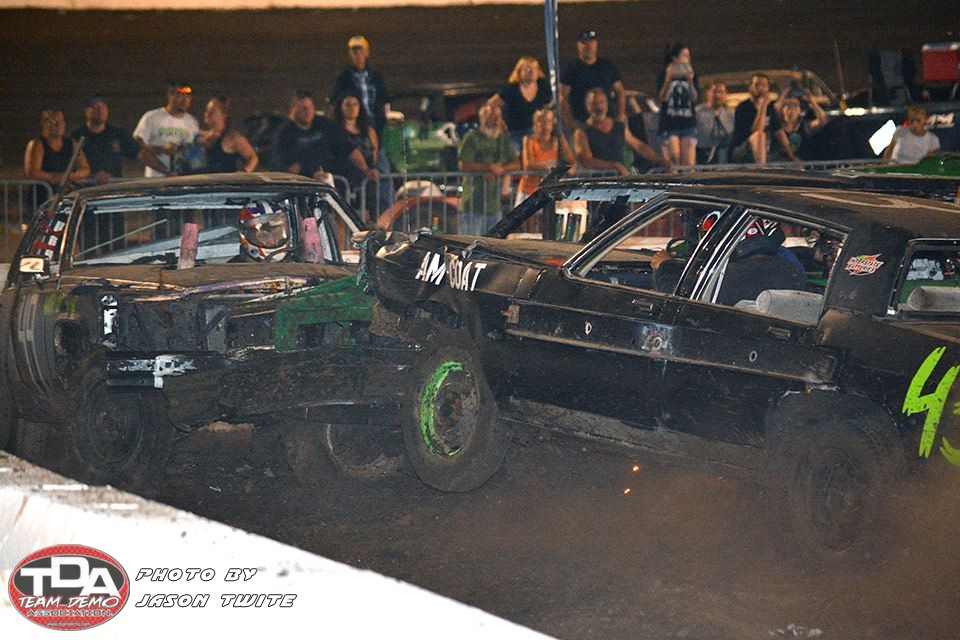 Angry Citizenz and Junkyard Dogs tore through each other and tore the Dirty O house down in an outstanding opening round battle; probably the best pound-for-pound, hit-for-hit brawl of the 2019 season thus far. JYD found themselves in the Last Chance Race again and would have to go the long route to get back to the Finals. However, Bandits and Orange Crush had seen that plan before. #61 Nate Powell nailed #31 Steven Scarbro, Jr immediately in turn 2 which Scarbro pinned on top of the wall! #39 Jason Ritacco was right behind Powell and delivered a torpedo-like trunk shot that absolutely annihilated the Orange car.
#68 Travis Couser benefited from the early madness, escaped the further harm and took his first-ever checkered flag which put JYD out of the bracket and OC into the Semi-Finals.
Mean Green Machine disposed of Bandits and Crazy 8s to reach the Finals on the other side of the bracket. Crazy 8s were in a major disadvantage, due to #85 Pete Gabriel and #88 Tyler Anderson exiting mid-race due to rule violation and injury, respectively, but nearly pulled off a remarkable win. #80 Jirik Huguley was the sole moving Crazy 8 car and holding the lead until Lap 4 when #01 Dave Janjanin slammed into him and slammed the shut the upset threat.
An all black & green Finals was another slugfest and shoving match through every turn of the early laps. #17 Pete Ryan successfully stopped Angry Citizens' main lap runner #43 Shaun Elder which cleared the way for #13 Matt Rex to stake a 3-lap lead. #47 Steve Vollbrecht was lying in wait on the back stretch and hit the perfect strike as Rex rounded turn 1. Vollbrecht broke free from the wreckage and was the last man standing through 4 laps. Janjanin fought and fought and finally got his car to re-fire for one last ditch shot on Vollbrecht. It was a solid hit, but not enough to change the outcome as Vollbrecht powered through the wreckage and completed the full 5-lap comeback for the win!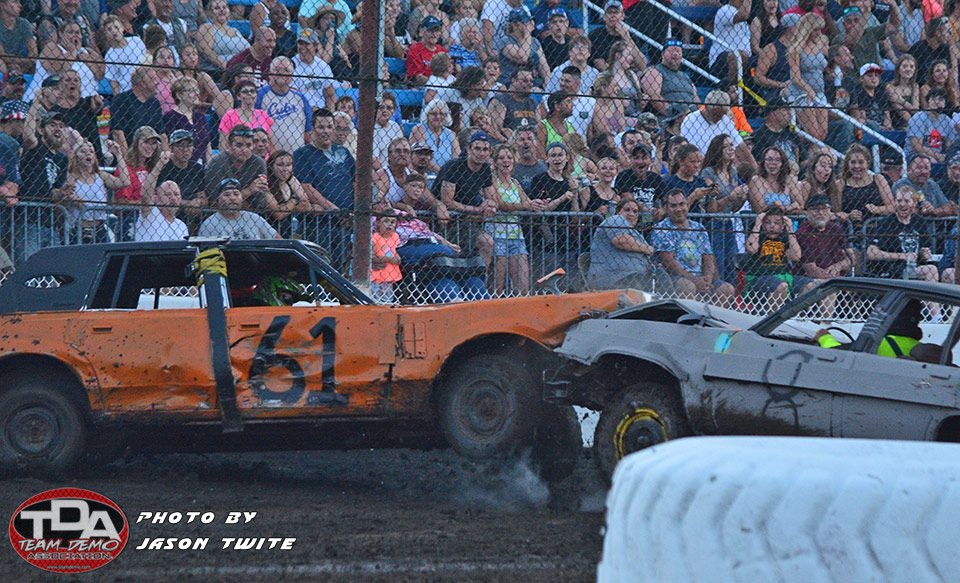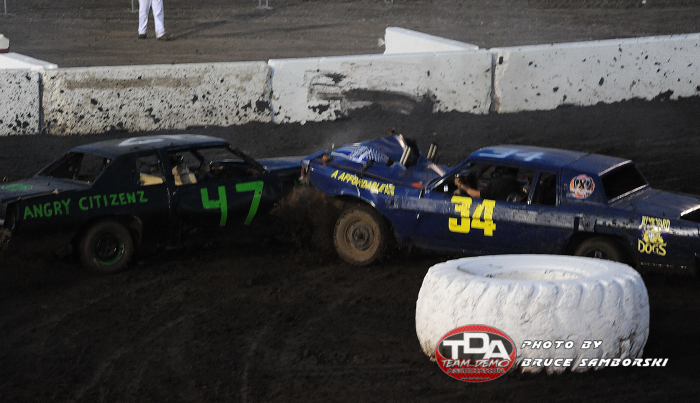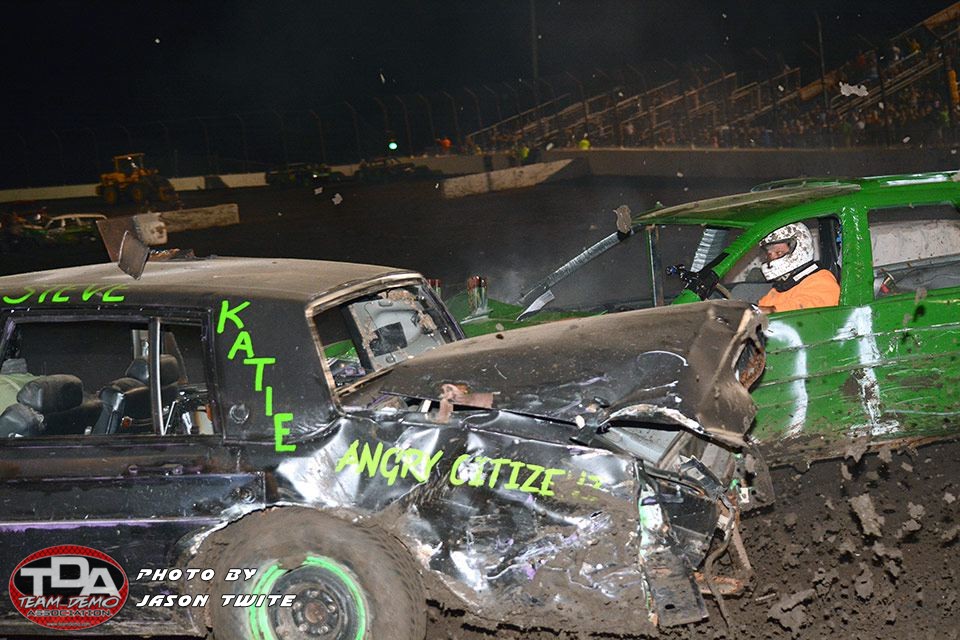 Tournament of Destruction Round 3 | Five 0 @ the Dirty O | July 20, 2019
First round:
Crazy 8s defeated Orange Crush
Mean Green Machine defeated Bandits
Angry Citizenz defeated Junkyard Dogs
Last Chance Race:
Orange Crush defeated Junkyard Dogs and Bandits
Semi-Finals:
Mean Green Machine defeated Crazy 8s
Angry Citizenz defeated Orange Crush
Finals:
Angry Citizenz defeated Mean Green Machine
The law enforcement officers and departments whom competed in the 3rd annual Five-0 @ The Dirty "O" delivered not only three great races, but most importantly, over $200,000 in donations for Special Olympics Illinois! Amazing work and dedication by everyone involved with the fundraising and racing.
Heat 1 winner – #380 Tom Dorsey, Romeoville Police Department
Heat 2 winner – #44 Michael Redmann, St. Charles Police Department
Feature winner – #502 Adam Thibo, Midtholian Police Department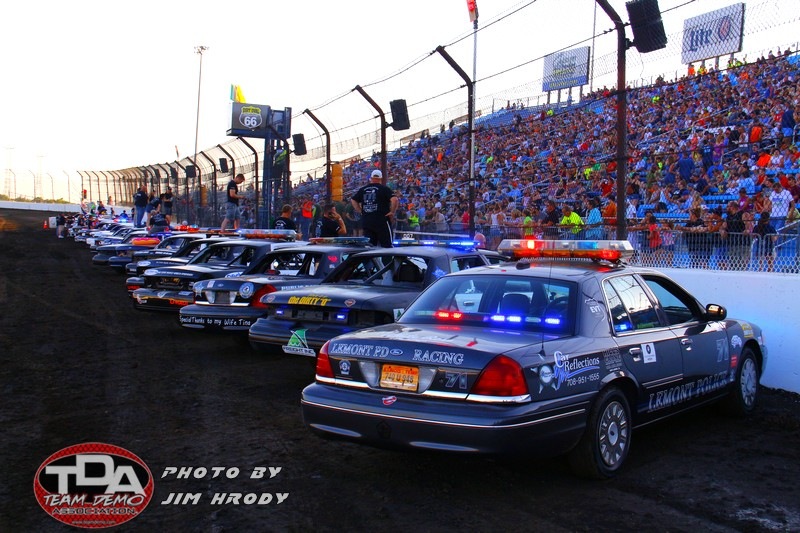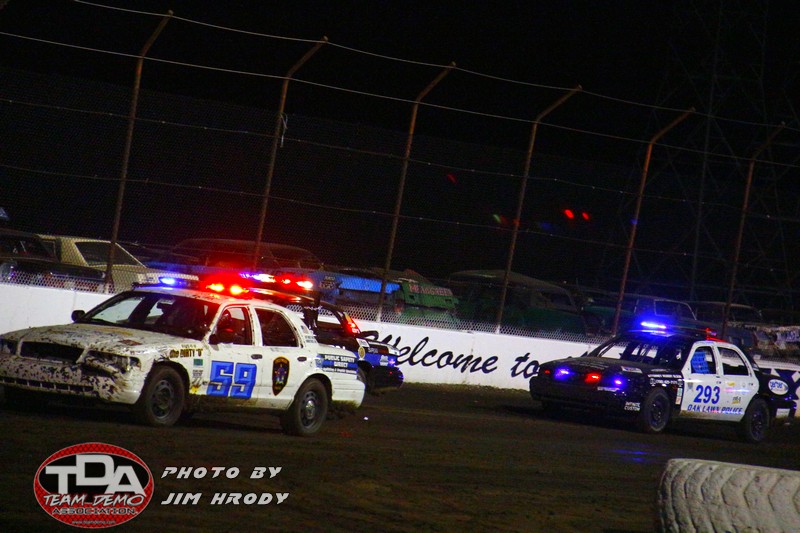 View the entire Team Demolition Derby Round 3 photo gallery plus all the Five-0 @ the Dirty "O" Police Car Racing photos!