Double D Destroyers vs High Risk spotlight
admin
Meet the drivers ready to battle inside the confines of the Dirt Oval @ Route 66 Raceway for the 8th annual "Racin' for Boobs" Women's Team Demolition Derby!
This isn't girly stuff ha-ha fun 'n' games where a driver's gender elicits special treatment. Not here.
It's same cars; same track; same high stakes for any competitor who suits up and straps in behind the wheel. This is the Tournament of Destruction after all.
Jaw-dropping, expectation-shattering showdowns in '16 and '17 alone are proof that these drivers may claim they can Demo better than the guys. And they may just be right.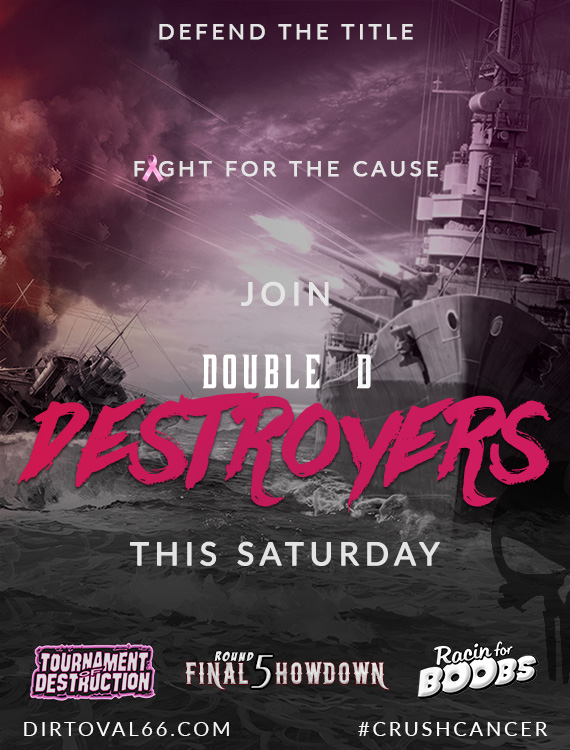 #93 Amber Domrose scored the checkered flag for the Destroyers last year after enduring a barrage of hard hits that peeled open the passenger side of the car. She is the only returning member of 2017 team, but still keeping those teammates close in mind.
"I'm racing for Jody (Huffmaster), Double D's own two-time breast cancer survivor," said Domrose. "She is an amazing friend who pushes you when you don't think you can go anymore."
Unlike last year, #97 LeAnn Foreman is alongside Domrose this time. Foreman was a day-of substitution for High Risk, but is no stranger to this race and winning. This will be her 6th entry and seeking 3rd win overall.
"This is what I love to do," said Foreman. "We're more than ready and looking forward to what Amber, I and the whole team can accomplish together."
New to the ranks is #95 Bridget Funk. A Tournament of Destruction observer for 7 years, but a full fledged weld class county fair-style demolition derby driver over that same time. Her fiancé, Mike Jackson, is a notable rookie in his own right performing well in the #56 car on South Side Bandits. No matter her experience, she understands the greater goal assigned to both teams which is to use this unique outlet to reinforce support and awareness in the fight against breast cancer.
"There is a history of breast cancer in my family," said Funk. "I'm dedicating this race to my surviving cousin Shelly Lopez and remembering my two aunts whom lost the battle."
The final piece of the team is a true wild card. Legitimately, because final selection will be made only hours before the race! The originally planned 4th teammate had to back out which led to a situation with more options than true answers. With the limited time and resources available, the likely result will be either another true rookie or a name from a past Racin' for Boobs team whom has deep family roots in Team Demolition Derby.
Will a missing link be the downfall of Double D? Or is this a pink colored Trojan Horse?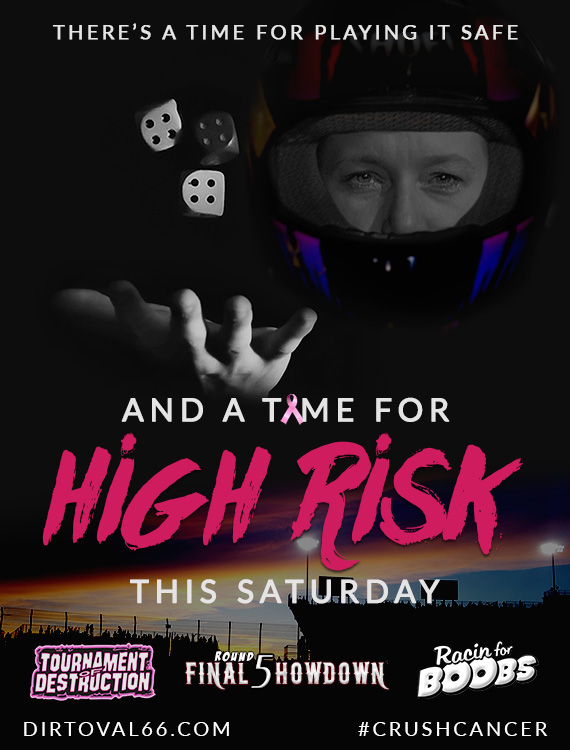 Their opponent's teammate turmoil is a familiar situation for High Risk. #104 Christy Millette had to step out of her spot last year, which negated a reunion of the "First Four" women of High Risk. Christy along with Lorna Millette, Megan Decker and Rebecca Ketelaar won the first-ever "Racin' for Boobs" back in 2011. They repeated victory together in 2016 as well. Even though their combined experience is tops for the 8 years, illness, obligations and bad timing have kept them separated more often than not in September.
#108 Lorna Millette is entering her 6th straight race, 7th overall, with the high expectation of upholding a family tradition of dominance.
"I'm thankful and proud that I am part of this way of life," said Millette. "I was born into it. I'm honored and blessed to have been dealt and great set of parents, both of whom raced at Santa Fe Speedway."
The effects of breast cancer hit home for the Millette's in July with the passing of Allison Millette, Lorna's mother and backbone of the family. Allison even battled on one of the first ladies teams in the 80s known as Honey's Angels at Santa Fe. Lorna now has extra motivation to continue what her mother started.
"I've had to tell myself 'save that for September' on a daily basis," said Millette, expressing the pent-up emotions surrounding recent months. "This is our time to be on that stage, let out some rage, and light s— up!
Cousin and teammate Christy, to no surprise, also has been influenced by a life surrounded with demolition derby as well as the family's fighting spirit.
"When I was 18 years old, I found my 38-year-old mother had stage two breast cancer, "said Millette. "She told me she was going to kick breast cancer's a–, and that's what she did. She is my role model."
Her grandmother also fought back and survived against the disease later in life. Millette races to honor her female influences and all other women who have survived and succumbed to breast cancer. That began in 2003 with her debut in a women's county fair-style derby with a car prepared by her uncle John Millette. This year, another champion driver and contending team are helping to make sure her ride is up to the winning standards.
"My cousin Ron Johnston has always been there for me. He is like another brother," said Millette. "He supports my efforts, builds the car, and if it wasn't for him and the Full Throttle team, I would not be out there. My thanks and love to you all!"
#106 Rebecca Ketelaar caught the desire to demo from Orange Crush team founder, her uncle Brian "The Crusher" Southwick, and being a constant help to the team in the garage and painting cars for many years.
"I always wanted to race so when we finally got the opportunity to do the ladies demo I had to be part of it.
#103 Megan Decker and teammate Lorna are tied at the top for the most "Racin' for Boobs" experience with 7 races as of this year and share similar motivations for competition. Promoting her name and the race led to connecting with a cancer-stricken fan via the Team Demolition Derby Facebook Page.
"I'm racing in memory of Debra Patty," said Decker. "She sadly lost her battle in December 2017, but I've remained friends with her family since the first year her name was on my car."
Dozens of ribbons will adorn her car, each delivered as a personal request from a friend, family, or someone she's never met.
"My goal is to honor some amazing fighters and survivors; empower the younger generation of girls; and hopefully put on a good show in the process," said Decker. "This is by far my favorite race and so unpredictable."
Will the huntresses of High Risk get their prey? Or can the Destroyers double down and break the core of the First Four?
All will be revealed at the drop of the green flag!