Tournament of Destruction Round 2: Super Hero Night
Saturday, June 27
Parking, Seating, and Pre-race Party all open at 4:00pm | Show Time: 7:15pm
The fallout from Round 1 rises to the surface. Round 2 is the first gut check to find out which teams are championship players and ready to survive a Summer-long race to the top. Teams looking up at the leaders have zero time to waste and need to strike fast or risk becoming buried in the points standings. All Junior tickets just $10!
Featured Races:
Team Demolition Derby – 6 teams battling to be the kings of carnage!
Circle Track Cars – series race #2 of 6. Spectator class stock cars racing 10 laps around the perimeter of the Team Demo arena. Want to race? Click here for details.
Special attractions: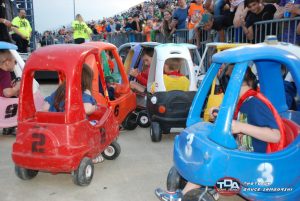 Kid Krashers – future generation of Team Demo drivers dish out some pint-sized impact. Kids are split into age groups (2, 3, 4, 5, 6-years old) and square off in front of the grand stands in between the actual Team Demo races. It's all for fun and every kid receives a recognition of participation. Cars are provided and there is no additional cost. Child and guardian must have valid ticket for the Round 2 event. Click here to register at DirtOval66.com Space is limited. View photos from 2019.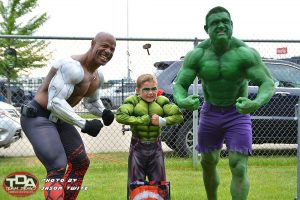 Super Hero Meet & Greet – get photos and autographs with your favorite super hero and fantasy characters before or during the event 6:00 – 8:00pm. Costumes are welcome! Meet Batman, Spider-man, Ironman, Captain America, The Incredible Hulk, and Jax from Mortal Kombat.* No additional cost.
View photos from last year's event.
*Character participation subject to change without warning.
Fireworks – best sky show in town! We light up the sky right before the Team Demo final race.