Tournament of Destruction Round 3: Five-0 @ The Dirty "O"
Saturday, July 20
Parking, Seating, and Pre-race Party all open at 4:00pm | Show Time: 7:15pm
Turning point, and maybe the breaking point, of the Team Demolition Derby season. Sustaining and building momentum is key to withstand the Summer-long marathon of mayhem to claim victory in the Tournament of Destruction.
The 3rd annual Five-0 @ the Dirty O event is a joint effort between The Illinois Law Enforcement Torch Run and Dirt Oval 66 to support the athletes of Special Olympics Illinois.
Featured Races:
Team Demolition Derby – 6 teams in the ultimate war of wreckage!
Five-0 Police Car Race – law enforcement officers in a high speed pursuit to determine who is the Top Cop in Chicagoland. Over 20 cars will be in the field, racing 15 laps on the 3/8 mile dirt oval. It is unpredictable excitement! Each driver in the the Five-0 police car race must raise a minimum of $500 in order to participate.
The Pole Position is determined by the amount of money raised by each officer. As of the latest tally, these officers have raised $78,000 and hope to raise $200,000 before race day. Donate now to any of the registered drivers and help them reach that goal!
As of 6/19/19, here is your starting line up for the race:
1. Lindsey Heavener, Joliet PD
2. Adam Thibo, Midlothian PD
3. Rich Schall, Posen PD
4. Pedro Gonzales, Bridgeview PD
5. Mike Kelley, Will County Sheriff's
6. Jim Molloy, Orland Hills PD
7. Jerry Lehmacher, Lemont PD
8. John Watson, Public Safety Direct
9. Chris Soderlund, Crestwood PD
10. Bryan Spreyne, Chicago PD
11. Al Taylor, Crete PD
12. Daniel McIntyre, Woodridge PD
13. Michael Redmann, St. Charles PD
14. Steve Bowen, Richton Park PD
15. Mike Sikorski, Oak Lawn PD
16. Dave Alexander, Crestwood PD
17. Tom Dorsey, Romeoville PD
18. Bob Christensen, Matteson PD
19. Brendan McWilliam, American Lawman
20. Terrence Boone, Metra PD
21. Debbie Schenk, Lockport PD
Special attractions:

Five-0 Safety Vehicle Show – law enforcement and emergency services vehicles on display near the main entrance.
Watermelon eating contest – Truly feed your appetite for destruction! Both kids and adults are welcome to compete. Registration occurs day-of in front of the grandstands between 6-7pm.
Fireworks – best sky show in town! We light up the sky right before the Team Demo Finals.
Advance ticket pricing ENDS July 7! Save $4 per ticket + the new Dirt Oval Family Pack.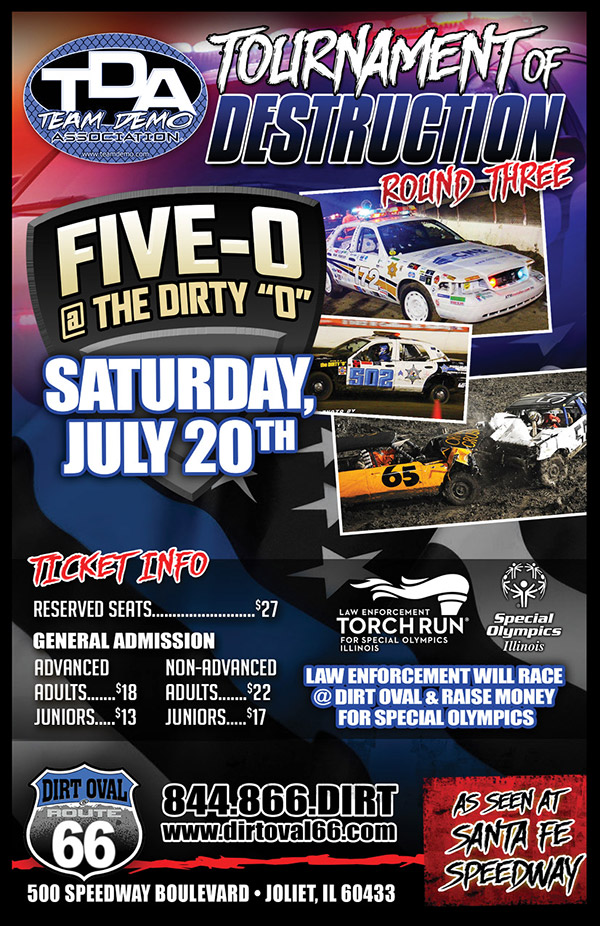 Watch video highlights from the 2017 Five-0 @ the Dirty "O" police car race! In-car cameras, sky-high drone view and from track side to get you ready for what to expect on July 20th!
Video courtesy Special Olympics Illinois