Tournament of Destruction Round 3: Five-0 @ The Dirty "O"!
Saturday, July 20, 2019
Parking Lots Open:
4p
Pre Race Party:
4p
GA Gates Open:
4p
Show Time:
7:15p
Turning point, and maybe the breaking point, of the Team Demolition Derby season. Sustaining and building momentum is key to withstand the Summer-long marathon of mayhem to claim victory in the Tournament of Destruction.
The 3rd annual Five-0 @ the Dirty O event is a joint effort between The Illinois Law Enforcement Torch Run and Dirt Oval 66 to support the athletes of Special Olympics Illinois.
Featured Races:
Team Demolition Derby – 6 teams in the ultimate war of wreckage!
Five-0 Police Car Race – Law enforcement officers in a high speed pursuit to determine who is the Top Cop in Chicagoland. Over 20 cars will be in the field, racing 15 laps on the 3/8 mile dirt oval. It is unpredictable excitement! Each driver in the the Five-0 police car race must raise a minimum of $500 in order to participate. The greater the donation, the better their starting position for the race. Donate now to any of the registered drivers and help them reach a goal of $200,000.
Special attractions:

Five-0 Safety Vehicle Show – Law enforcement and emergency services vehicles on display near the main entrance.
Watermelon eating contest – Truly feed your appetite for destruction! Both kids and adults are welcome to compete. Registration occurs day-of in front of the grandstands between 6-7pm.
Fireworks – Best sky show in town! We light up the sky right before the Team Demo Finals.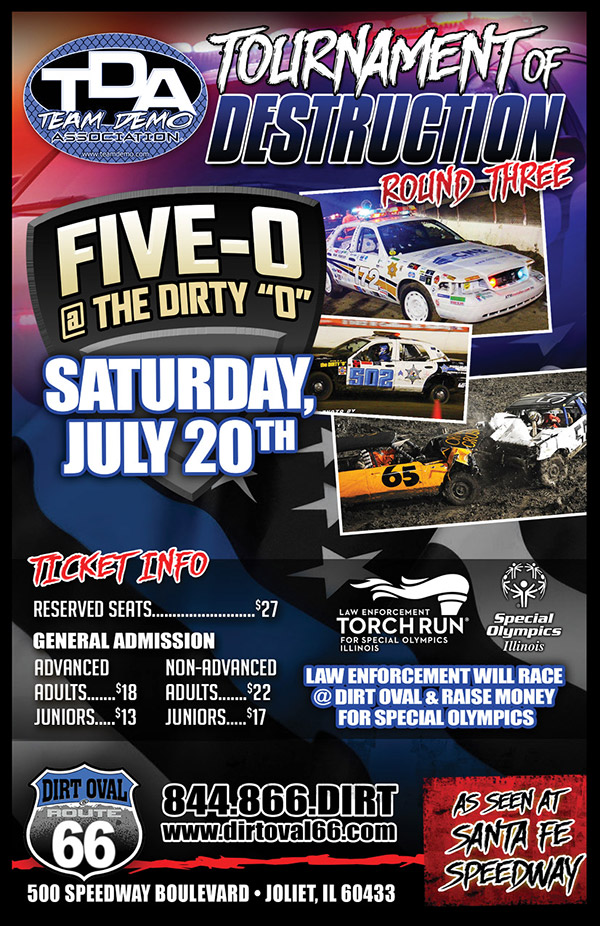 Watch video highlights from the 2017 Five-0 @ the Dirty "O" police car race! In-car cameras, sky-high drone view and from track side to get you ready for what to expect on July 20th!
Video courtesy Special Olympics Illinois