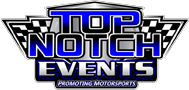 Top Notch Events, spearheaded by President Sherri Heckenast, welcomes you to the Team Demo Association. TDA is the World's Only True Professional Team Demo Organization – the sanctioning body that presides over the unique Tournament of Destruction, which takes place each year at the state-of-the-art Dirt Oval at Route 66 Raceway in Joliet, Illinois.
Our association consists of professional drivers and dedicated team owners who have made the ultra-exciting sport of Team Demo Derby into what it currently is today. All of the hard work and expertise that each of our teams possess are on display five nights a year in different themed events. The hard-hitting, non-stop action and chaos fills the stands at Route 66 Raceway on each occasion with legions of diehard fans who are kept on the edge of their seats by the uniqueness of our show.
Team Demolition Derby is Roller Derby with Automobiles. Professional teams engage in a total war of carnage! Huge crowds feel the passion and power of this event as it grabs all emotions right from the drop of the green flag. Bent metal, twisted chrome, and a passion to WIN is what makes up this very dangerous game of heavy impact!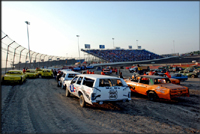 At the end of our five night Tournament of Destruction – a new Champion is crowned each year. Team Demo Association has the privilege of representing true professionals in this wildly popular and fast growing sport!
Sherri Heckenast, who has been part of a racing family her entire life and a race car driver herself in the Dirt Late Model ranks, has the experience in business and promotion to take Team Demo Association to new heights. Sherri has a deep passion for racing and competition. Frank Heckenast, Sr., Sherri's father, has been a part of Team Demo since the 1970's at Santa Fe Speedway and is still involved in fielding teams and helping drivers / owners in any way possible.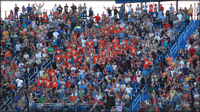 The hunger for racing and competition has been a staple in the Heckenast family for several decades. We welcome the opportunity to call all of our drivers and owners a part of our dream that has been in formation for many years. We also look forward to working with everyone involved in making Team Demo Association a true American past time, as we continue to look for ways to make it even bigger and better. Our family is going to work hard for each event to put on a great show for the fans and to give our drivers / owners the professional recognition they deserve.
We thank you for being an integral part of Team Demo Association and we can't wait until our next event! Our entire staff is committed to doing whatever it takes to make TDA a passion for not only our drivers and owners, but also for our loyal fan base!