CALLING ALL CARS! The chase is ON this Saturday!
admin
Team Demolition Derby, Special Olympics, and Illinois law enforcement agencies join forces again for the 2nd annual "Five-0 at the Dirty-O" police car race at the Dirt Oval at Route 66 Raceway!
This an official Law Enforcement Torch Run fundraiser benefiting the Athletes of Special Olympics Illinois. The immense support and excitement generated by last year's event has led to larger entrant list; more over-whelming donations; and what is sure to be more on-track madness.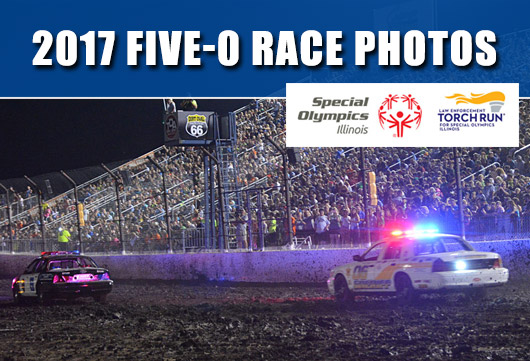 3 WAYS TO GET TICKETS:
Buy now @ TeamDemo.com
Call 815-740-8000
At the ticket window on race day!
Kids 2yrs & under are FREE. Group discounts available for 15 or more.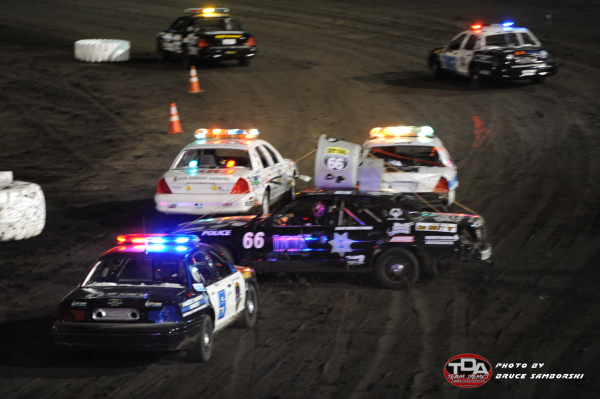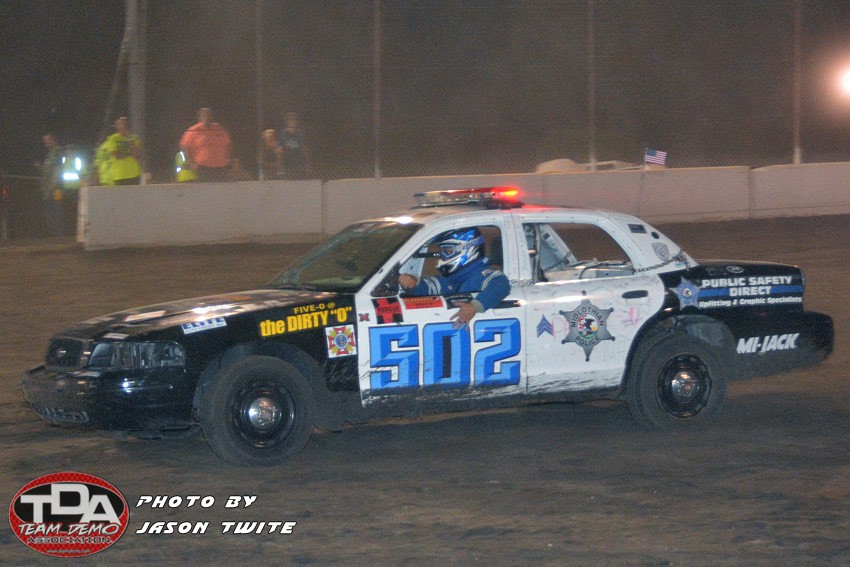 Speeding is encouraged.
Reckless driving is legal.
Hit-and-Run may be the ticket to a trophy.
These race-ready squad cars are no Krispy Kreme cruisers. Officers will trade their badges for helmets and compete for 15 laps on the 3/8 mile oval track for ultimate bragging rights and the award of fastest cop in the state. It's not demolition derby, but you can bet some tactical shoving will be on display in full force.
Each race team was required to raise a minimum $500 donation in order to compete and some departments expanded their roster to multiple cars! As of July 16, the teams have combined for a monstrous $125,000 in donations!
2018 Five-0 at the Dirty-O entrants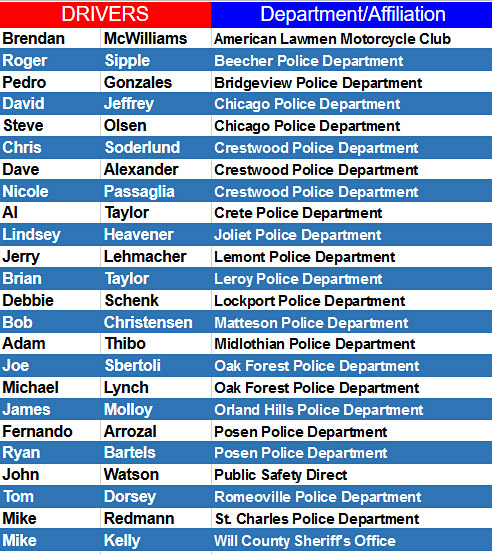 2017 Champ Jerry Lehmacher from the Lemont Police Department will defend his title against a field stacked with last year's top finishers, including 2nd and 3rd place finishers Adam Thibo of the Midlothian Police Department and Dave Alexander of Crestwood Police Department, respectively.
Fans of all ages can turn money into mayhem! Make a donation to Special Olympics and you get to sledgehammer a junk car at the "Smash for an Athlete" interactive smashing station.
A Public Safety Vehicle Show and the junk car smashing, along with all the pre-race activities take place in and around the main grandstand entrance from 4:00 – 6:30pm.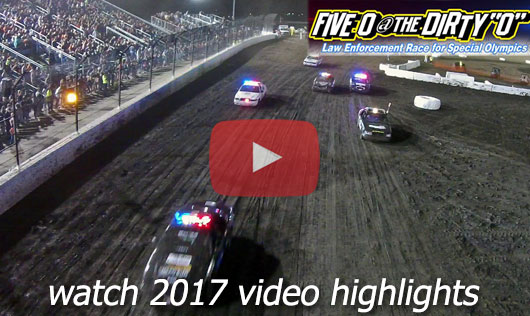 Grab a Five-0 Event t-shirt! $1 of every purchase goes to Special Olympics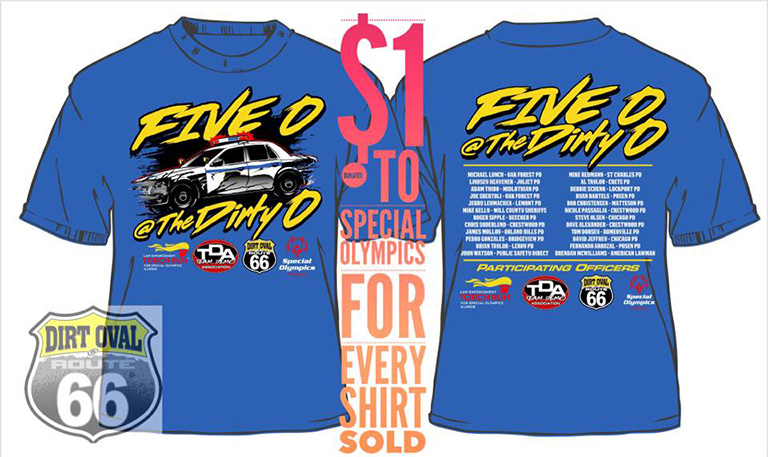 Prepare to be Woken: New-look Team 7 debuts Saturday

A new team with a vintage name joins the Tournament at Round 3. The ownership of Team 7 changed hands after Round 2 and rumors are swirling as to what drivers (past & present) may be lurking in the teal & gray pits. One thing is for sure: it's been 18 years since the name Rude Awakening appeared in the Tournament of Destruction. Rude Awakening raced all 6 events in '99 – '00 and countless more during it's first incarnation at Santa Fe Speedway in '88 – '94.
Vintage rude wreckage dealt to Stranglehold in the Wildcard Round of 7-15-2000: