Dads of Destruction
A special look at numerous Father & Son connections behind the scenes and behind the wheel of Team Demolition Derby in celebration of Father's Day 2019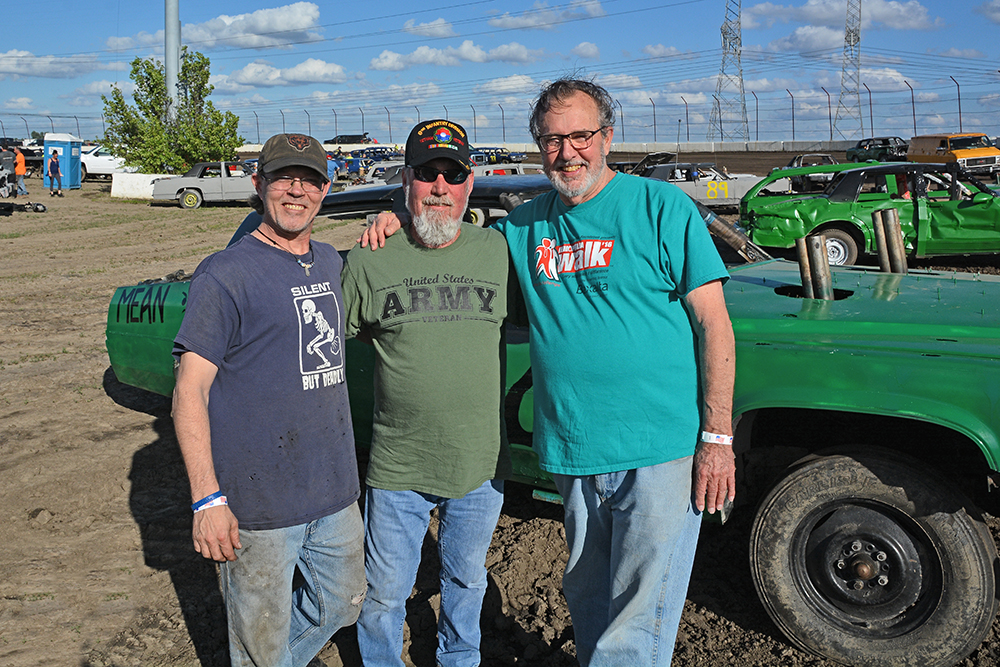 Pictured here are Dennis "the Menace" Ryan on the left, his father "Captain" Jim Ryan in the middle, and "Papa" John Millette on the right. The Ryan's and the Millette's are two, of several, storied racing families whom have dedicated multi-generations to Team Demolition Derby. They've won countless races and dozens of Championships across more than 40 years of smashing cars. Although their 'Loco' and 'Mean' spirits have long since calmed, they still have 'Motives' and 'Machines' committed to the sport and their families' involvement to this day.
Thanks to Team Demo veteran driver Johnny Ryan (Jim's brother) for assistance with the family factoids.
Here's Johnny celebrating an Orange Crush victory with grandson Evan: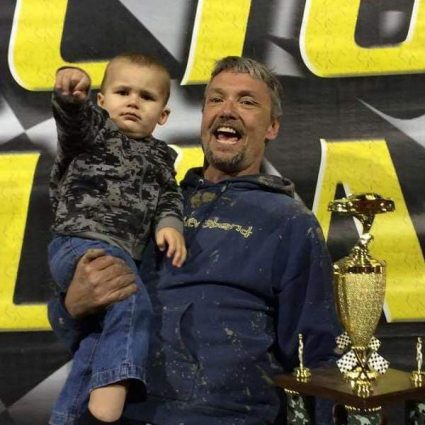 Pete Millette Sr & Jr vs. Jim Ryan & Dennis Ryan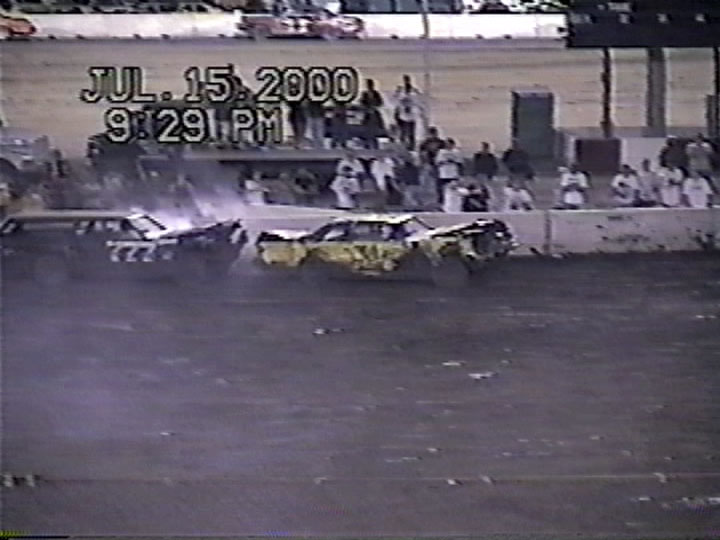 Throwing it way back to 7/15/2000 for a Father & Son vs Father & Son match up. #7 Jim Ryan, #7777 Dennis Ryan and the Locomotives survived an intense Team Demo battle for over 10 minutes against Damage, Inc with #88 Pete Millette, Sr and #81 Pete Millette, Jr.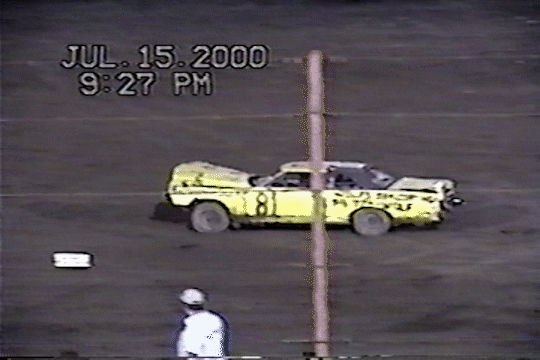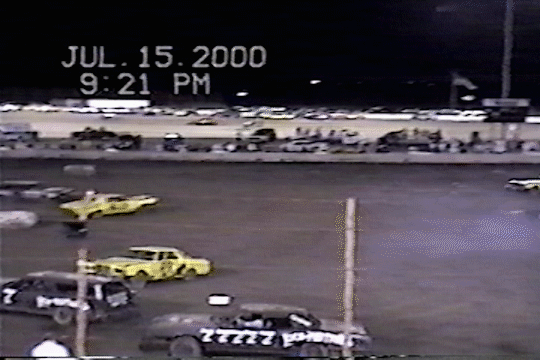 Wally, Nick, Anthony, & Katrina Hartung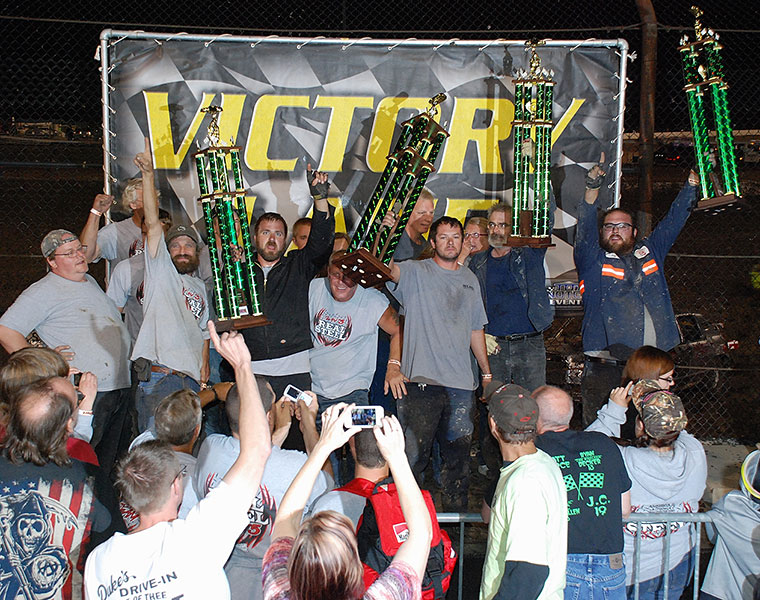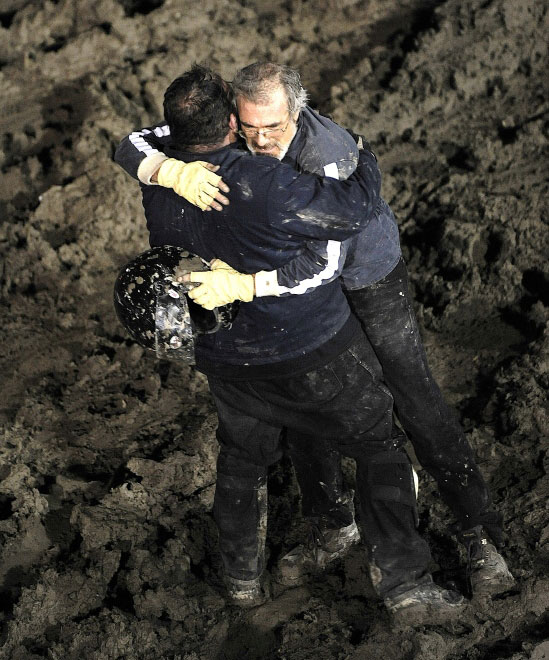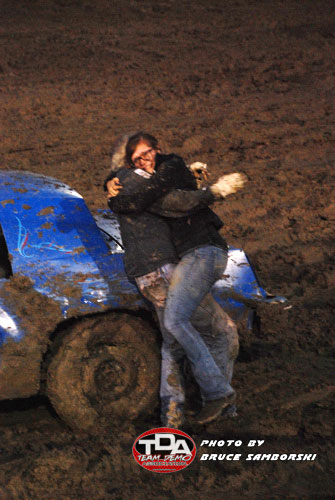 Wally & sons Nick & Tony hoisted many trophies on Real Steel & Reckoning, while daughter Katrina lept into her Dad's arms after her first victory in the Figure-8 Car series.
Art & Arthur Scarbro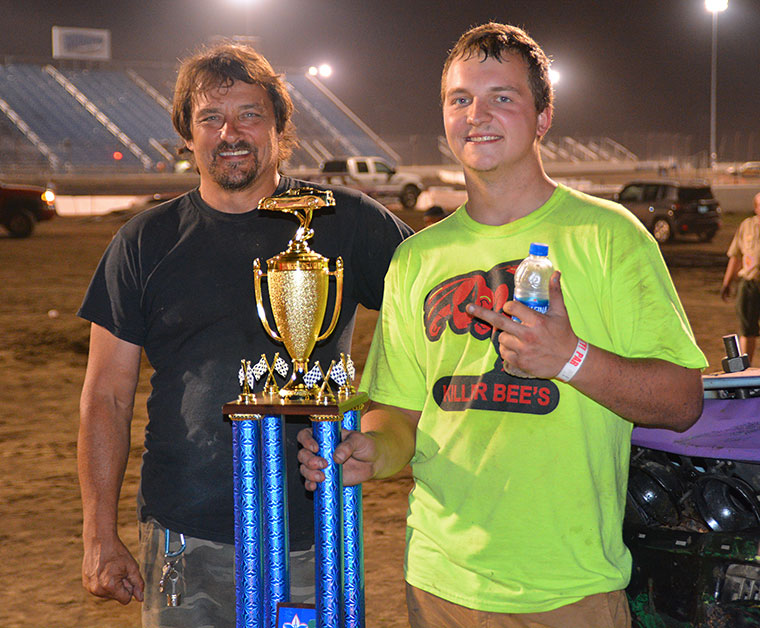 Team Demo legend Art Scarbro celebrated his son Arthur's first event win as part of Full Throttle on 8/26/2017.
Bill & Nick Bowley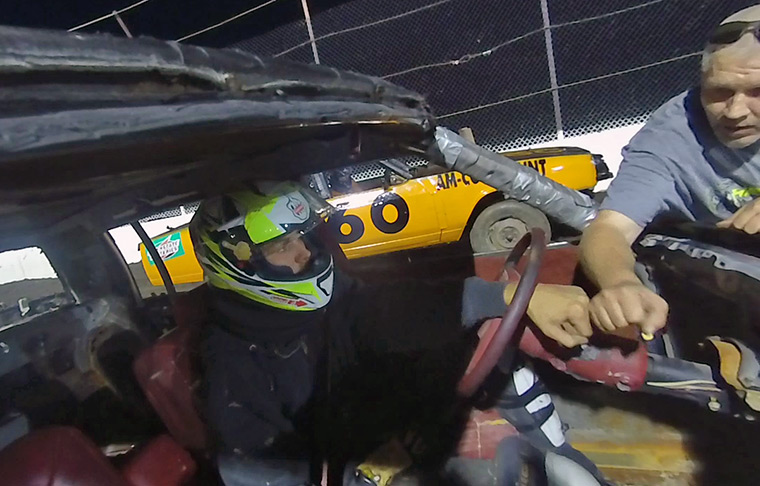 Another active second-generation driver is Nick Bowley, son of retired Team Demo veteran, and owner of maybe the coolest nickname, "Hellrider" Bill Bowley. After carving corners and making blockers blush during an eye-opening race win in July of 2018, everyone wondered 'where did that kid learn to drive!?' Well, the answer is obvious, right? Bill continues to support his son's efforts early in his sophmore season, now flying the #41 for Angry Citizenz, while Nick strives to bring in new, younger Team Demo talent of his generation, all with the goal of keeping demos alive.
Dave & David Swan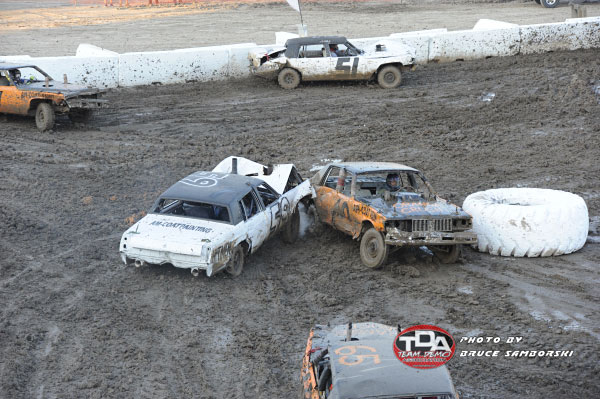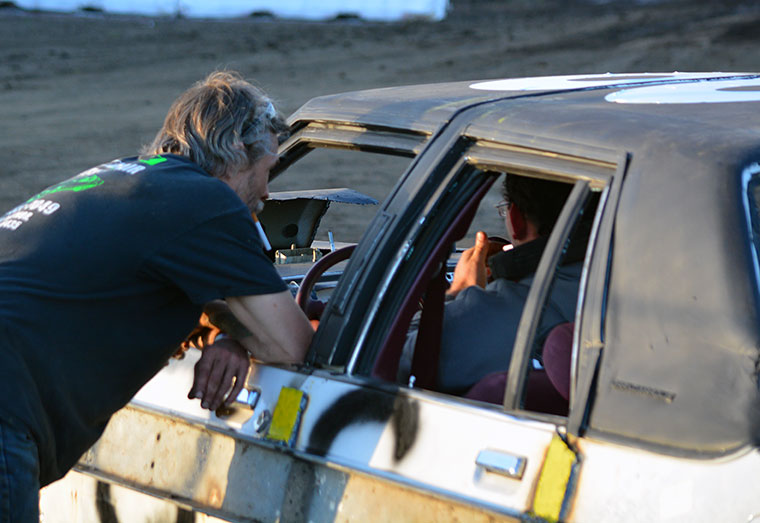 #59 Dave Swan and son #51 David teamed up on Chicago Hitmen against Orange Crush on 6/25/2016. The elder Swan is always watching over the flock, most recently, on 5/25/2019 as David raced for Crazy 8s against Junkyard Dogs.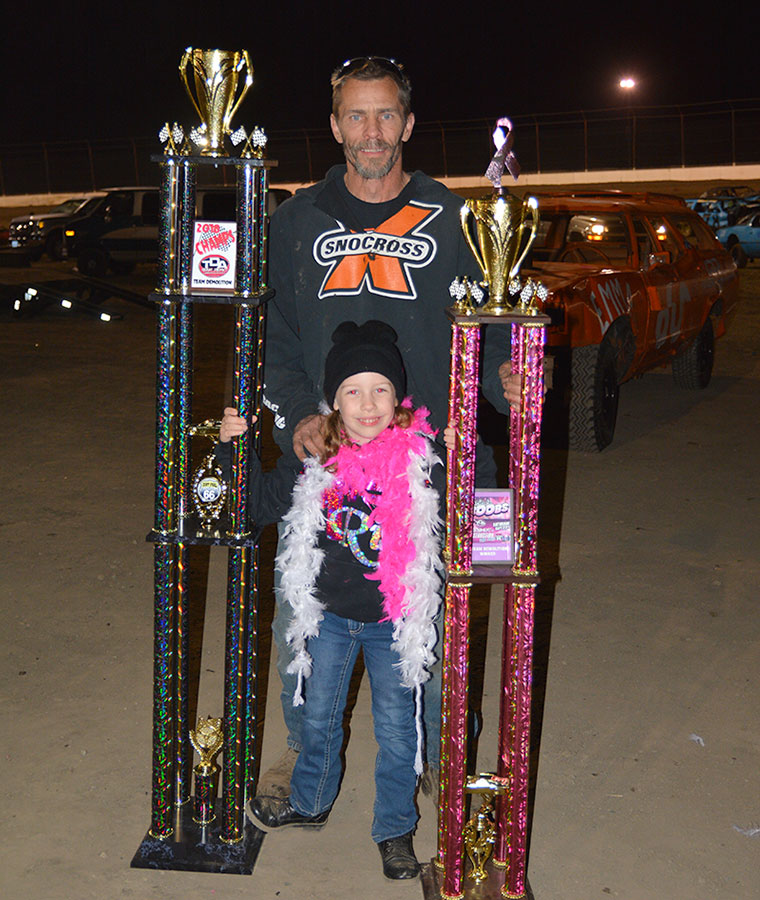 Dave and daughter Emma with his & hers trophies from the 2018 Round 5 event.
Jerry, Derrick, Ryan, & Megan Decker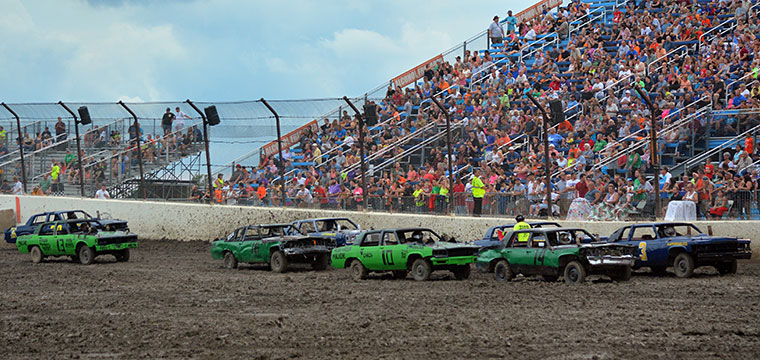 #10 Jerry Decker & #13 Ryan Decker went into battle many times together on Mean Green Machine including capturing the 2016 Tournament of Destruction Championship. Son Derrick is a former Figure-8 Cars series Champion and daughter Megan is a multi-time winner of the Racin' for Boobs Women's Team Demolition Derby.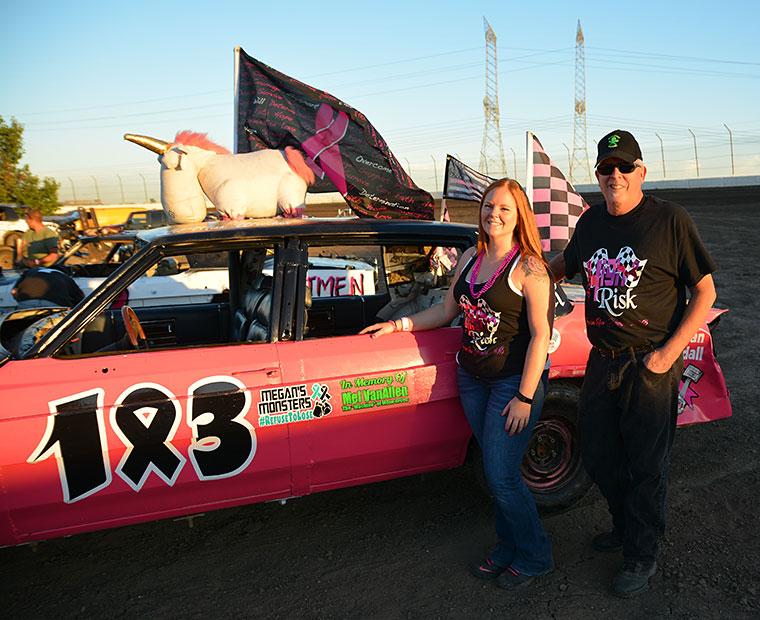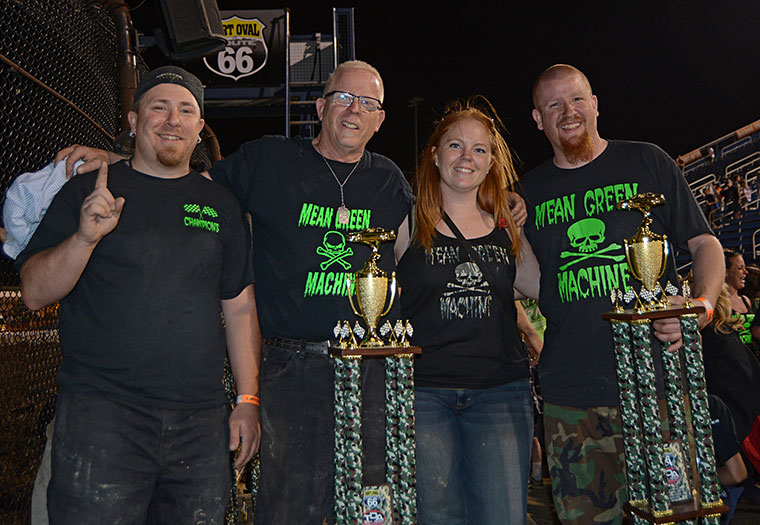 Steven & Steven Scarbro, Jr.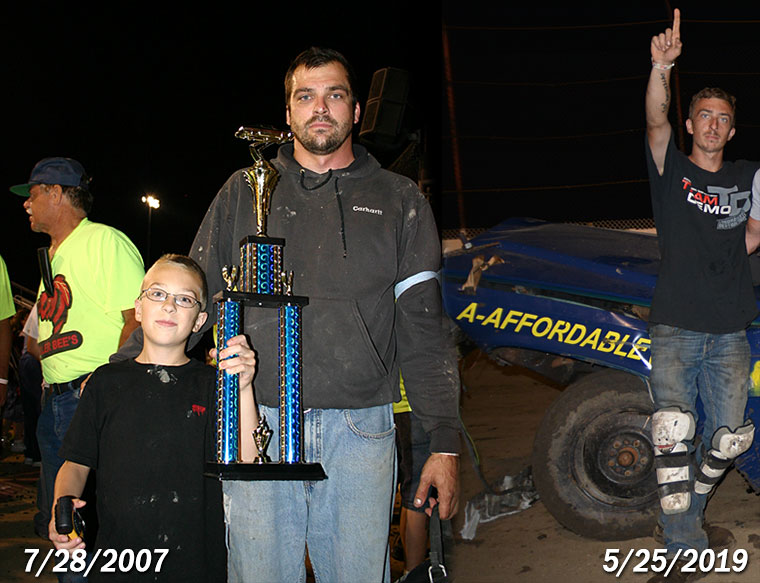 Considered by many to be the greatest ever to drive in the Team Demo realm, the late Steven Scarbo didn't have to prove that to son Steven, Jr. "Take a picture of me and my Dad!," little Steven exclaimed after Killer Bees won the 2007 Round 2 event. 12 years later, #31 Steven Jr. has two trophies of his own, yet we all wish there was another picture to take.
Mel, Trey, Josh, Jay, & Zac Van Allen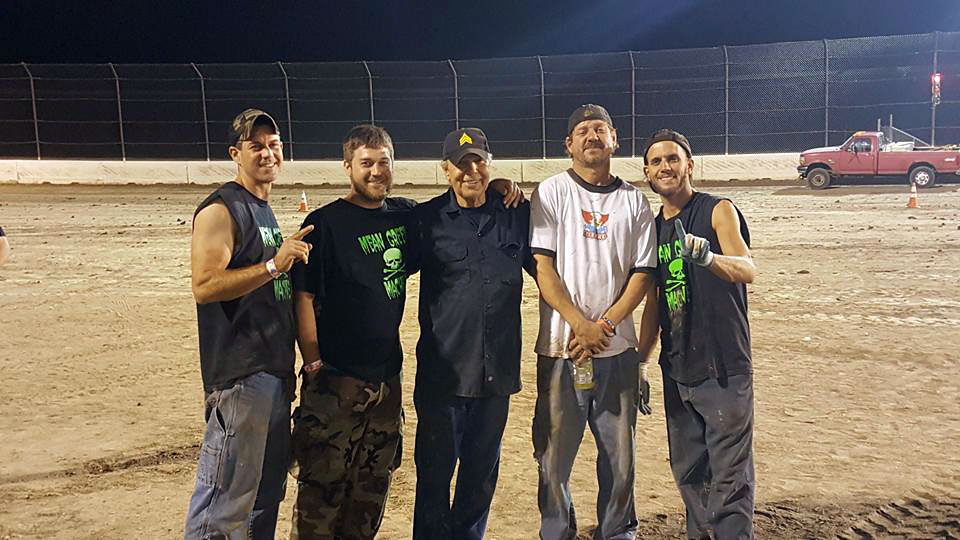 The man behind the Machine for many years, the late Mel Van Allen, pictured here in the middle, flanked by sons (left to right) Trey, Josh, Jay, and Zac. The four brothers all have raced Team Demolition Derby at one point, including comprising the entire Team Xtreme lineup in 2005 – 2007, and most of Stranglehold in 2008. Zac still carries the family name into active action as #16 on Mean Green Machine.
John & Lorna Millette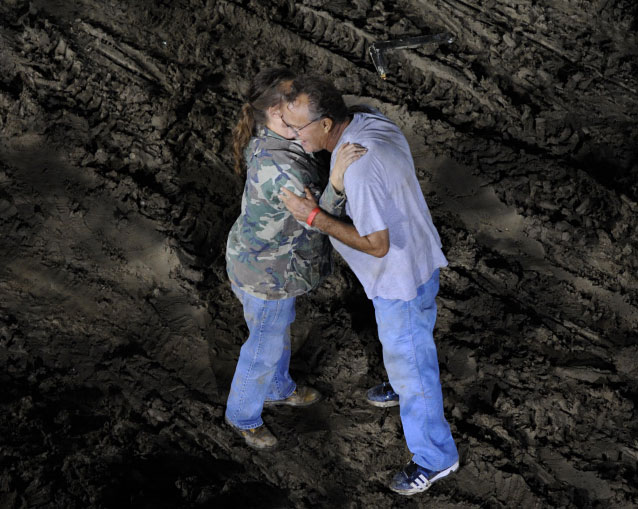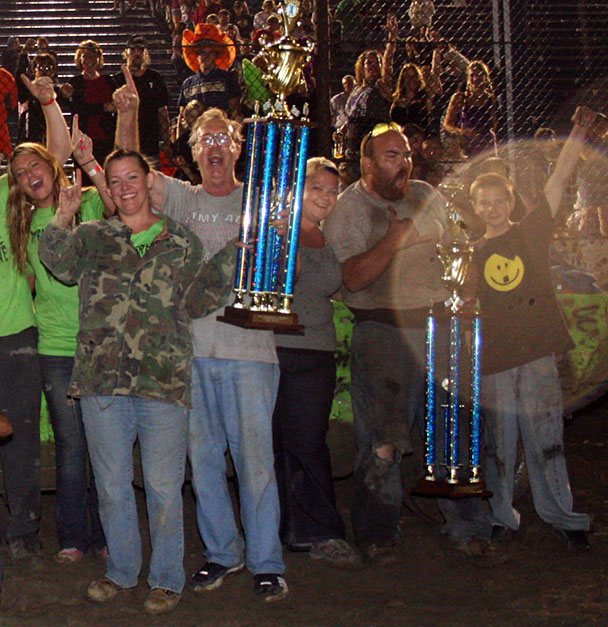 "Papa" John Millette and daughter Lorna celebrate a breakthrough night and Round 4 event win for Mean Green Machine on 8/20/2011. Lorna is also a multi-time winner of the Racin' For Boobs Womens Team Demolition Derby on High Risk.
Kyle Shearer & Eli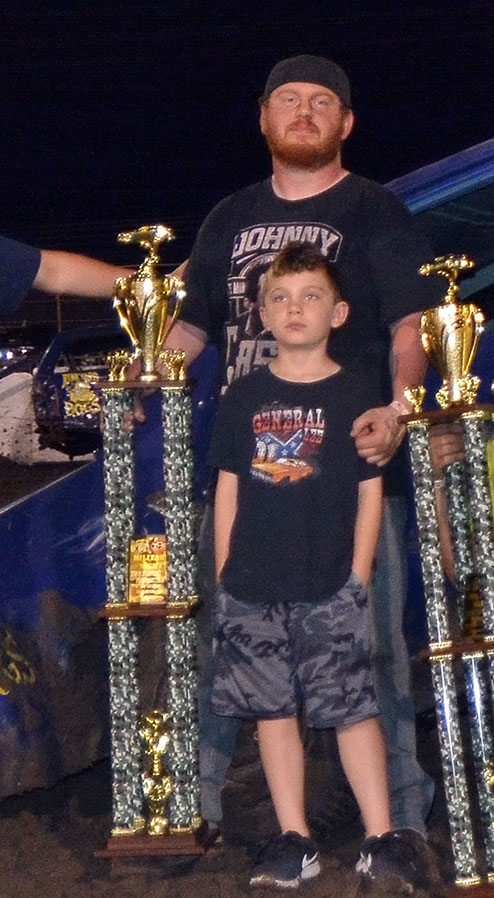 Current Junkyard Dogs driver, #38 Kyle Shearer standing proud with son Eli after capturing the 2019 Round 1 Event win.
Ron & Steve Vollbrecht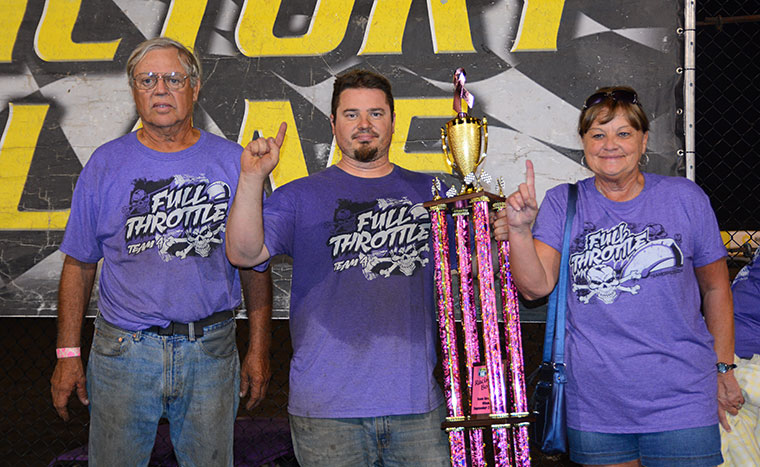 It takes guts for anyone at any age to step into Team Demolition Derby. But, the level of guts, trust, and probably fear, involving the story of the Vollbrechts is second to none. Steve is one of the winningest Team Demo drivers of all-time and has age on his side to go maybe another 10+ seasons! How? By convincing his father Ron (and probably his Mom too) to sign a waiver allowing him to compete at the age of 17 in the year 1999 for Quicksilver Destruction Company. Sorry, Ron, the boy doesn't want to go fish. He's eyeing a record-setting Championship alongside Angry Citizenz in 2019.
Steve Gursky, Sr & Steve Gursky, Jr.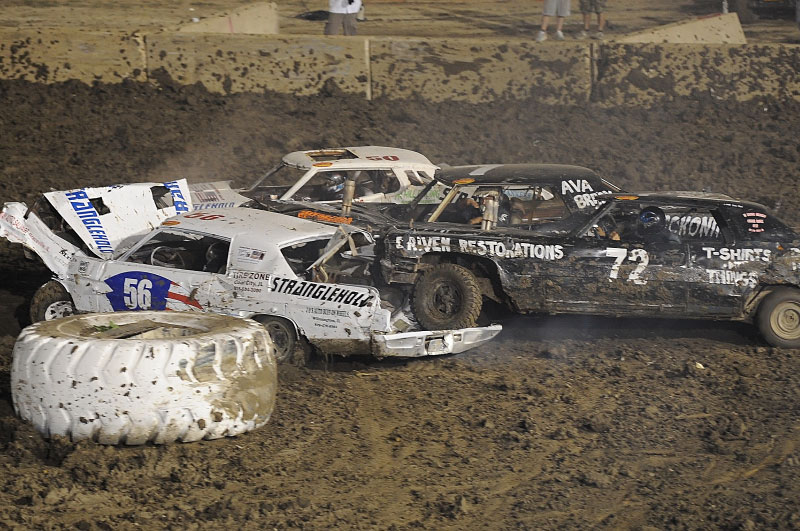 #72 Steve Gursky, Sr. stepped in for Steve Vollbrecht and helped Reckoning defeat Stranglehold in a thrilling Final Round battle on 7/23/2011.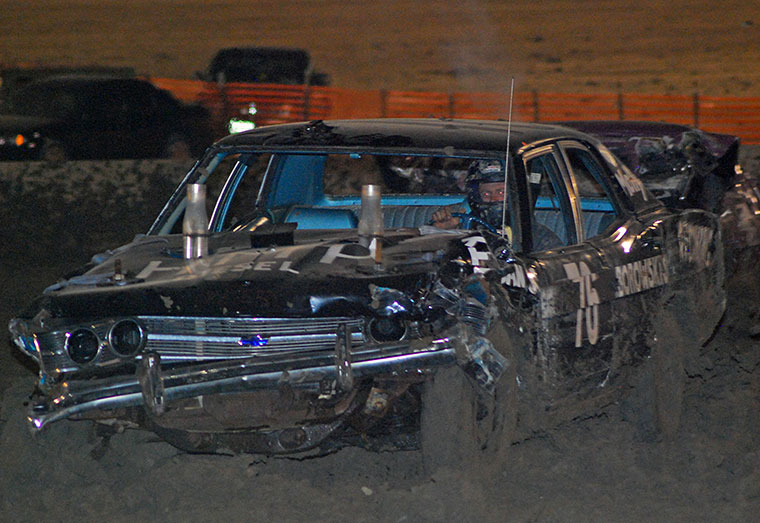 #76 Steve Gursky, Jr was one of the most prolific lap runners, and car builders, of this generation.
Steve Gursky, Sr & Chris McGuire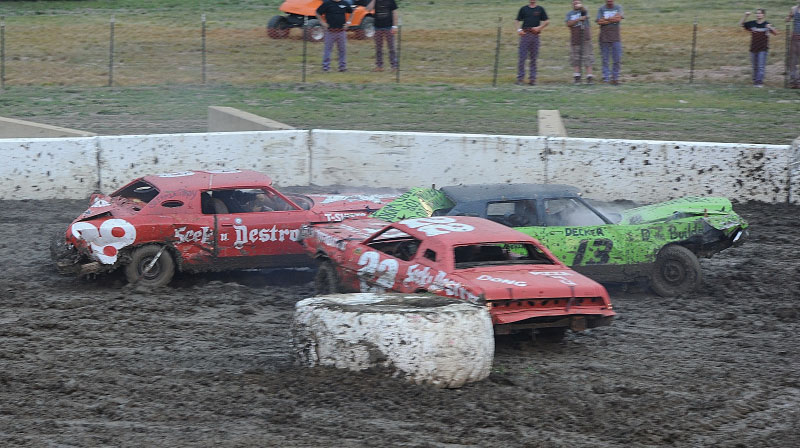 #22 Steve Gursky, Sr. & step son #28 Chris McGuire teamed up on Seek-N-Destroy team against Mean Green Machine on 6/23/2012.
Charlie & Levi Turnbaugh vs. Mel Noble Sr & Jr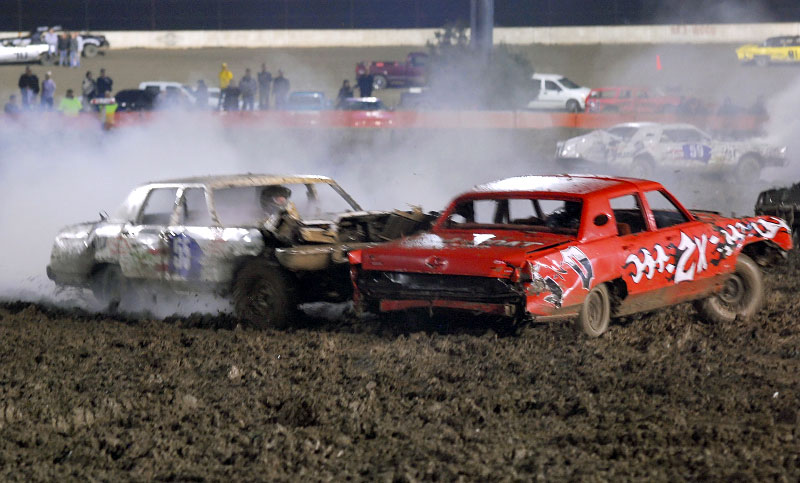 Another face off of Fathers & Sons took place at a soggy Round 5 even to end the 2010 season. #2x Charlie Turnbaugh and son #21 Levi Turnbaugh on Seek-N-Destroy defeated Stranglehold which included #55 Mel Noble and #57 Mel Noble, Jr. The 2019 Bandits line-up includes the younger Noble back behind the wheel of the #55 for the first time in several years. The elder Noble had escaped the Demo Life and moved to Arizona, but has recently returned and was spotted in the Bandits' pit area at Round 1. Perhaps this father & son duo will ride again!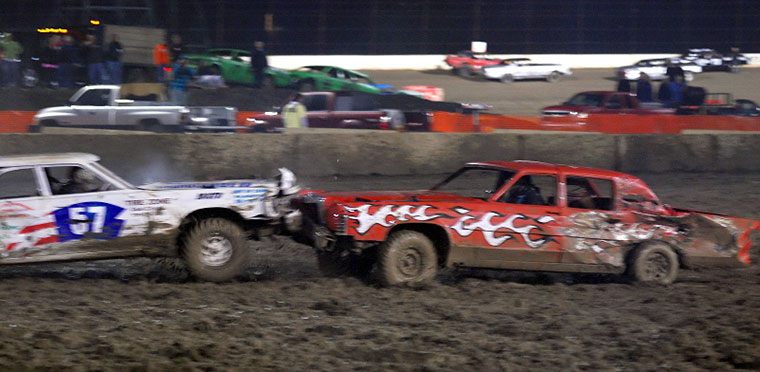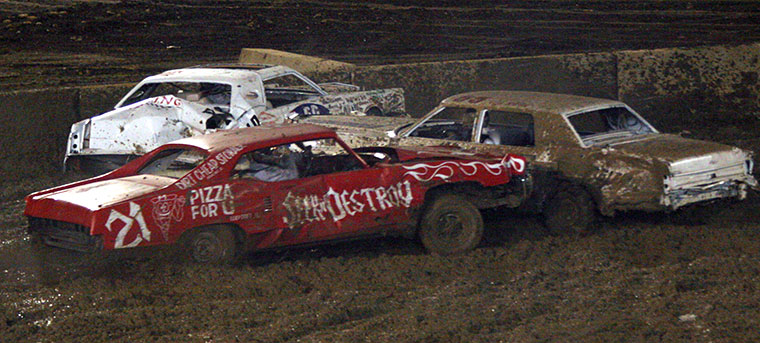 Bring Dad, and the entire family, to experience Team Demolition Derby LIVE at the Dirt Oval at Route 66 Raceway. Check the remaining 2019 Tournament of Destruction schedule or catch the thrills of other dirt oval racing events including UMP Summer Nationals Hell Tour, USAC midgets, Monster Trucks and more!