Round 2 Award Winners
Tournament of Destruction | June 23, 2018
Madness.
Look no further for an example of certified fresh Team Demolition Derby excitement. No fewer than 10 significant strikes in the relatively short race duration of just over 2 minutes meant this was not a causal hit-n-run affair. It was hit or be hit; score laps or get lashed.
#87 Matt Wilson started the feeding frenzy with a wicked head-on into #77 Anthony Hansford then received immediate payback from the debuting #74 Roy Haywood in the form of a stiff t-bone shot. The runners opened up the horsepower with #81 Nick Bowley throwing his own blocks while cutting tight corners and dueling with #07 Scotty Blankenship, Jr. #85 Pete Gabriel would've appreciated a blocker to safeguard him from #71 Nick Hartung's clear path to pound him into back wall.
At the halfway mark, the damage level continued to rise and the bright teal was soon engulfed by a black mass. #82 Larry Younghusband gored through the already heavily impacted passenger side of Blankenship's car, but the #07 pressed forward to chase #81 Nick Bowley. They mirrored each other through the corners and Blankenship avoided a second attempt by Younghusband this time by.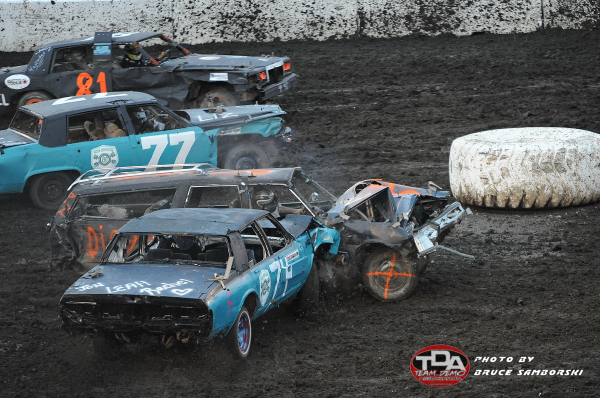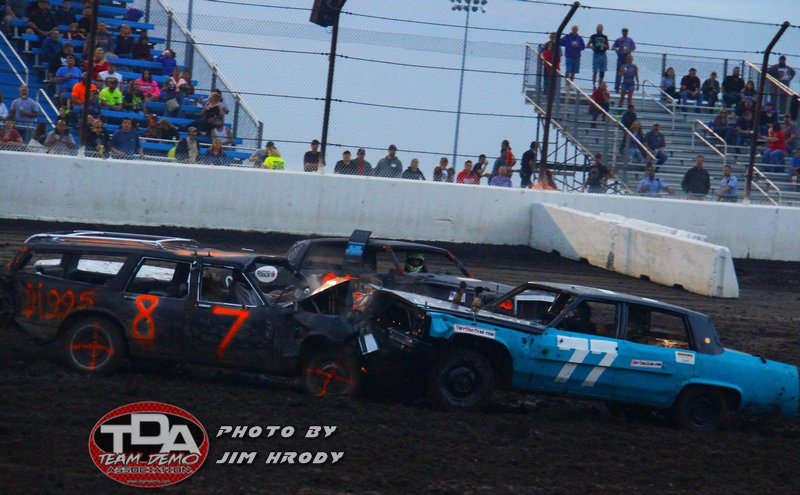 Hartung was the only other Brigade member still in the battle. He struck Bowley entering the final lap to give Blankenship a chance to gain ground. By the final lap, Blankenship was out of time to get ahead so he made the choice to go for an attack on the back stretch. Choices have consequences. Bowley bounced off another car; the #87 was stalled in Blankenship's path; and Bowley saw Younghusband flying across the center of the track to assist. Blankenship probably did not. Younghusband's third direct blast into the passenger side, which sandwiched Blankenship into the #87, finally ended the threat… but not the race.
As Bowley neared the checkered flag, Hartung's weakened car crept towards him, maybe for a last-ditch block, when Younghusband delivered yet another a heavy hit as an exclamation point on his performance and the most physically destructive race of 2018 thus far.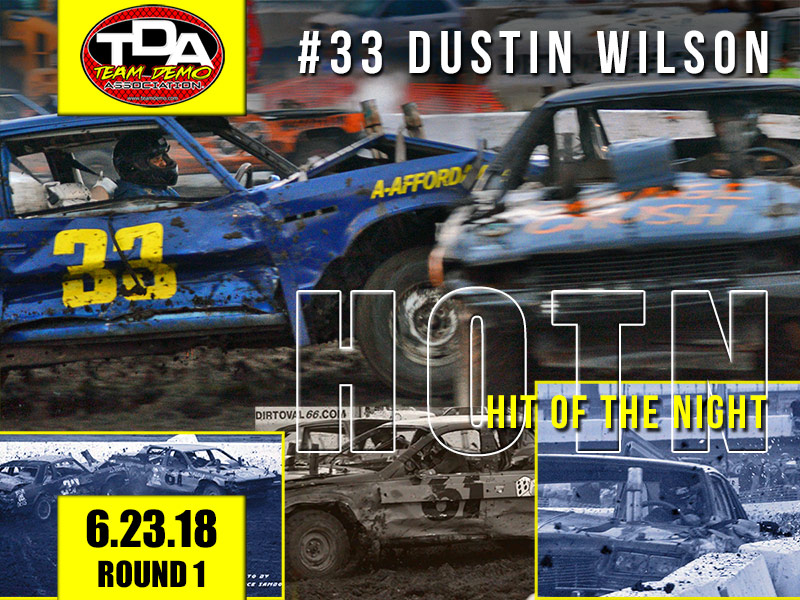 Junkyard Dogs' #33 Dustin Wilson was on the wrong end of this award in August 2017. Once a victim; now vindication. He sank his rabid front bumper into Orange Crush's #61 John Clemmons on the white flag lap of their opening round clash. Clemmons rounded Turn 2 and eased up on the throttle just a bit in order to take a safe line on the back stretch to avoid #39 Jason Ritacco up ahead. The hesitation played right into Wilson's full tilt, all-or-nothing charge out of Turn 4.
He smashed the rear door with incredible speed, lifting tires of both cars off the ground at the moment of impact. The aftershock instantly spun the #61 car 180 degrees and the #33 crunching 90 degrees into the concrete wall as a wave of metal and mud fell back to Earth.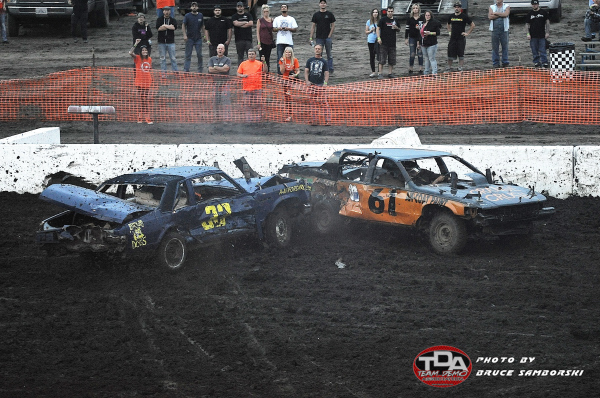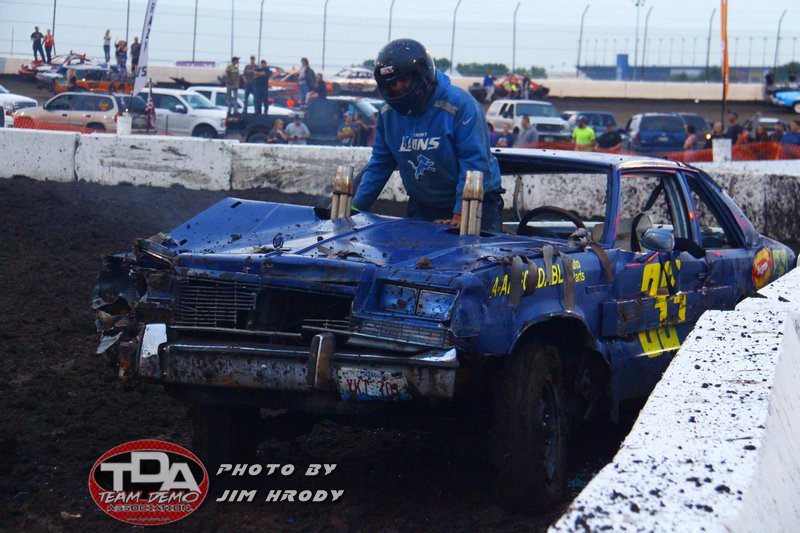 The hit ignited a roar from the Dirt Oval crowd that reached above the screaming engines but wasn't enough to spark a comeback win for JYD. #64 Ryan Riley was right behind Clemmons the whole way and took the checkered.
Twice a victim, back-to-back months in fact, Clemmons hasn't exactly been a sitting duck. His blazing lap speeds have been a thing of beauty and nothing but frustration for opponents. Wilson's hit was one of only three that made any significant impact against Clemmons throughout the Tournament. A testament to the skill of both these drivers.
Whenever high speed offense collides with high speed defense, it too is a thing of beauty: beautiful Team Demo brutality.
Honorable mention to #50 David Stevenson, #82 Larry Younghusband, and #48 Brien Chancey for their impressive hits that highlighted Round 2 of the Tournament of Destruction.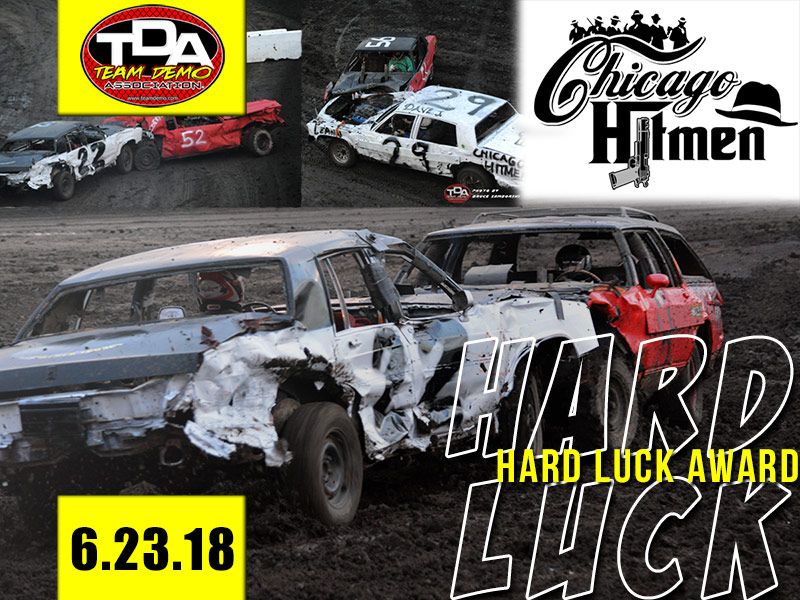 The new-look Chicago Hitmen had a 3-on-4 advantage, even before the green flag, due to the fourth Southside Bandits car stuck in the pits unable to fire. What should've been a cakewalk eventually soured into a 12-minute unsavory marathon. #22 Mike Newenhouse and #27 Ryan Lagestee repeatedly traded hits with the two strongest Bandits, #5 Brad Berdelle and #56 Mike Jackson, and kept the route fairly clear for #29 Dave Janjanin. This was Jackson's first-ever race, but he was wise to his surroundings and nailed a knockout shot on Janjanin just as the leader crossed into the final lap. Newenhouse tried to take over, but he too was crunched by Jackson with a rare reverse attack. Berdelle and #2 Matt Rex entangled themselves in the wreck while trying to free their respective teammates which left the race at a standstill and seemingly a countdown victory for Chicago Hitmen.
Except everyone forgot about Bubba. Yes, "Bubba," aka #52 Ray Bockstahler, took and dealt hits early in the race then went silent up against the front wall. With all other cars now silent, #52 rose from the rubble and began collecting laps at what may be the slowest pace in the last 20 years. The tortoise always beat the hare and a slow lap is as valuable as a fast lap in Team Demo.
The capacity crowd chanted for Bubba to hurry because the hare… err… Berdelle had refired and was close behind. Berdelle ignored the rain of boos; spoiled his teammate's improbable story; and left the Hitmen wondering how that all happened.