Round 1 Award Winners
Tournament of Destruction | May 26, 2018
Vollbrecht. Chancey. And poetically, a third-generation Scarbro. Their rapid succession, triple-team attack breaks new ground in the Hit of the Night category because it was simply that good. This is TEAM Demolition Derby, after all. #61 John Clemmons of Orange Crush held the race lead all the way through 4 and ½ laps after escaping Full Throttle's defense that had pushed him back two full corners. Seconds later, Full Throttle's defense turned into an offense fury. Chancey smacked Clemmons door-to-door on the back stretch, but Clemmons had enough momentum to keep control and was ready to slip passed the incoming Vollbrecht from the right side. Instead, Scarbro raced up the left side with a stiff trunk shot that spun out Clemmons directly into the path of Vollbrecht who put the #47 car wheels-up with a massive head-on smash! Just for good measure, Chancey drove straight into the melee to ensure Clemmons would not find a way to escape.
Hopefully all the drivers work just as well at agreeing to split the $500 bonus as they do at coordinating their tactical on-track strikes.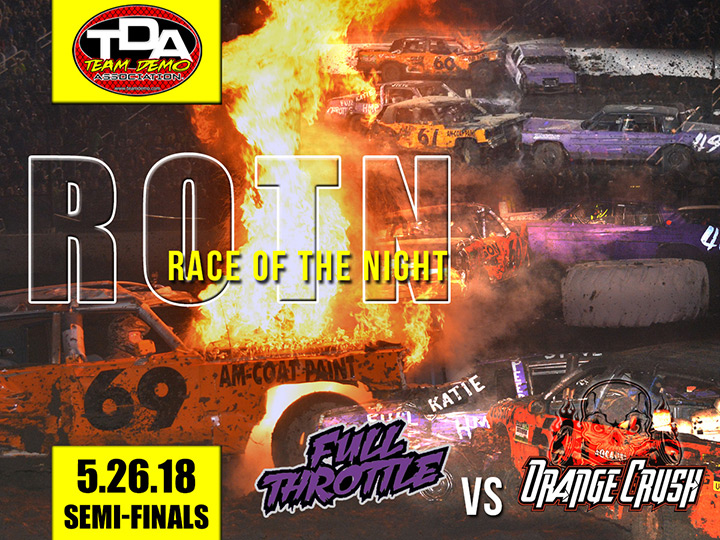 Blazing speed; timely crushing on both sides; impressive driving talent; a dramatic come-from-behind win; and a gigantic fireball is always an attention grabber for Race of the Night honors. The Hit of the Night by Full Throttle in this race was just one piece in the thrilling showcase of destruction. #69 Levi Turnbaugh and #63 Ryan Lagestee darted corner to corner, across the track numerous times with chaos as a co-pilot. Turnbaugh's efforts went up in flames when the engine ignited in a 30-foot high inferno! He quickly bailed out of the car and walked away leaving the smoldering remains and his team down 3-on-4. #48 Brien Chancey and #49 Art Scarbro III threw some key blocks that kept #45 Jay Van Allen a lap ahead of #61 John Clemmons entering Lap 5. Lagestee slipped through another block attempt and executed a perfectly placed t-bone blast on Van Allen that allowed Clemmons to drive by and take the white flag for himself. Next time around, Clemmons fell victim to the triple tandem slam into the wall which gave him a prime view of #47 Steve Vollbrecht completing untouched laps for the win.
It's not the first time Orange Crush and Full Throttle received Race of the Night honors – that was August 2017 – and we doubt this will be the last in 2018.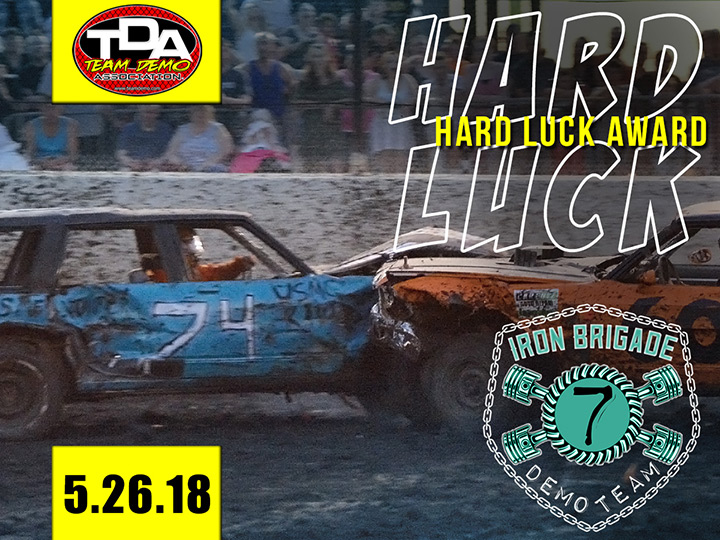 Iron Brigade's high expectations turned into Hard Luck at the drop of the green flag. They were already the underdog in their debut race against Orange Crush, but faced a major deficit followed by disappointment when the #77 of Anthony Hansford stalled at the starting line due to a mysterious electrical gremlin. The rest of the Brigade put up a decent fight with the 4-on-3 odds and proved that an even race may have led them to the upset win instead of being just plain upset.