This Saturday! Tournament of Destruction Round 3: Five-O at the Dirty O
Team Demo Association, Special Olympics, and Illinois law enforcement agencies join forces again for the 3rd annual "Five-0 at the Dirty-O" police car race during Round 3 of the Tournament of Destruction at the Dirt Oval at Route 66 Raceway!
Seating area opens at 4:00pm as does parking lot for tailgating, pre-race party, and Public Safety Vehicle show. General Admission and Reserved tickets are available! Show time is 7:15pm.
3 WAYS TO GET TICKETS:
Buy now @ TeamDemo.com
Call 815-740-8000
At the ticket window on race day when you arrive at Dirt Oval 66
Kids 2yrs & under are FREE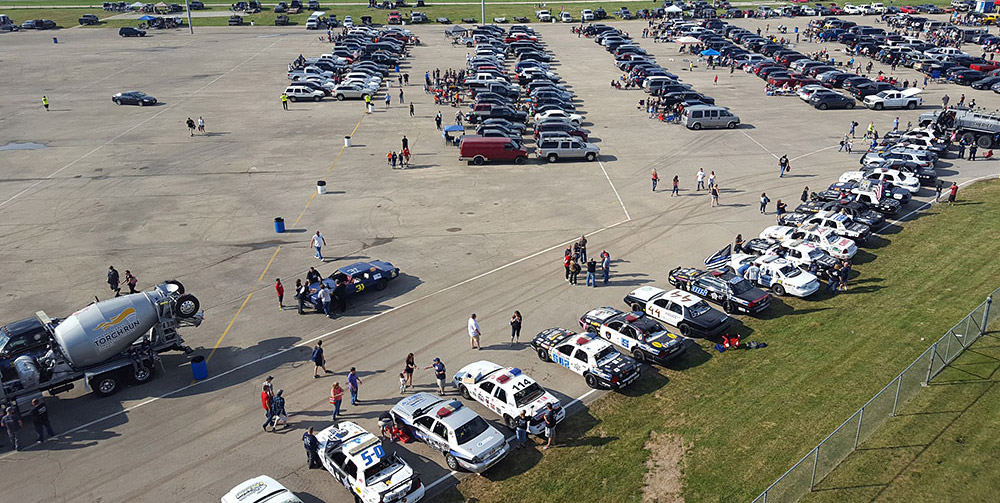 This an official Law Enforcement Torch Run fundraiser benefiting the Athletes of Special Olympics Illinois. Law Officers will be racing on the 3/8 mile oval track to compete for "THE FASTEST COP IN TOWN."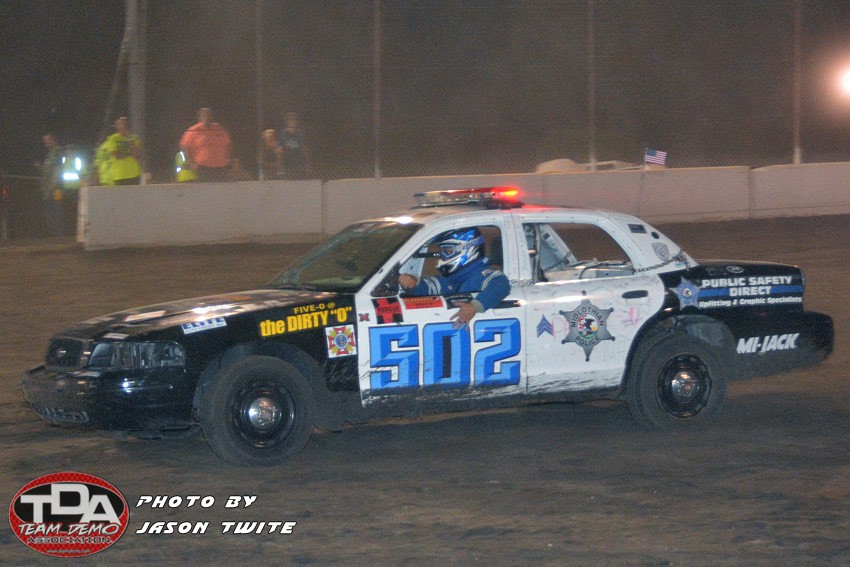 Each race team was required to raise a minimum $500 donation in order to compete and some departments expanded their roster to multiple cars! Thus far, the teams have raised an incredible $146,000 in donations! The ultimate goal is $200,000 by the end of Saturday.
2019 Five-O at the "Dirty O" entrants
As of 7/15/19, here is the starting line up for the race and the donation totals of each driver:
Lindsey Heavener, Joliet PD $35,023
Rich Schall, Posen PD $17,455
Adam Thibo Midlothian, PD $16,295
Bob Christensen, Matteson PD $15,950
Pedro Gonzales, Bridgeview PD $14,000
Jerry Lehmacher, Lemont PD $10,541
John Watson, Public Safety Direct $9,730
James Molloy, Orland Hills PD $6,580
Fred Mondt, Tinley Park PD $6,350
Mike Kelley, Will County Sheriff's Office $5,900
Chris Soderlund, Crestwood PD $4,146
Bryan Spreyne, Chicago PD $3,945
David Alexander, Crestwood PD $3,165
Al Taylor, Crete PD $2,200
Michael Redmann, St Charles PD $1,878
Thomas Cobb, Matteson PD $1,800
Roger Sipple, Beecher PD $1,790
Paul Cihocki, Oak Lawn PD $1,250
Debbie Schenk, Lockport PD $1,200
Brendan McWilliams, American Lawmen $1,147
Daniel McIntyre, Woodridge PD $1,133
Steve Bowen, Richton Park PD $1,130
Laura Frank, Oak Forest PD $1,095
Mike Sikorski, Oak Lawn PD $1,076
Steve Hotkiewicz, Burnham PD $645
Tom Dorsey, Romeoville PD $220

Fans of all ages can turn money into mayhem! Make a donation to Special Olympics and you get to sledgehammer a junk car at the "Smash for an Athlete" interactive smashing station.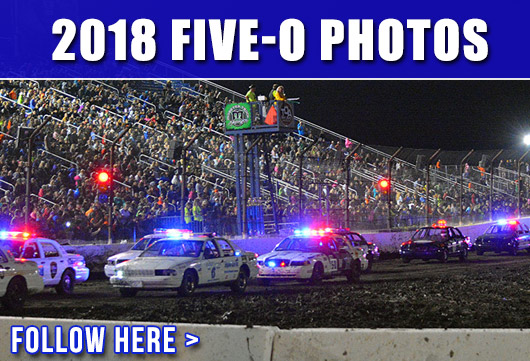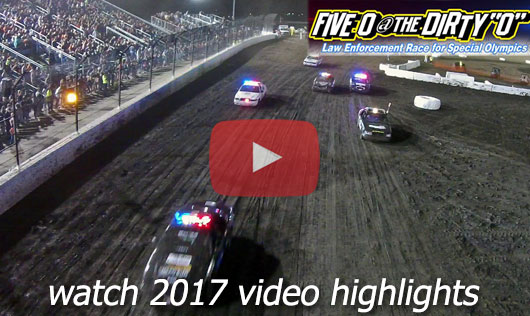 Monsters are Real! Monster Truck Mayhem returns August 3rd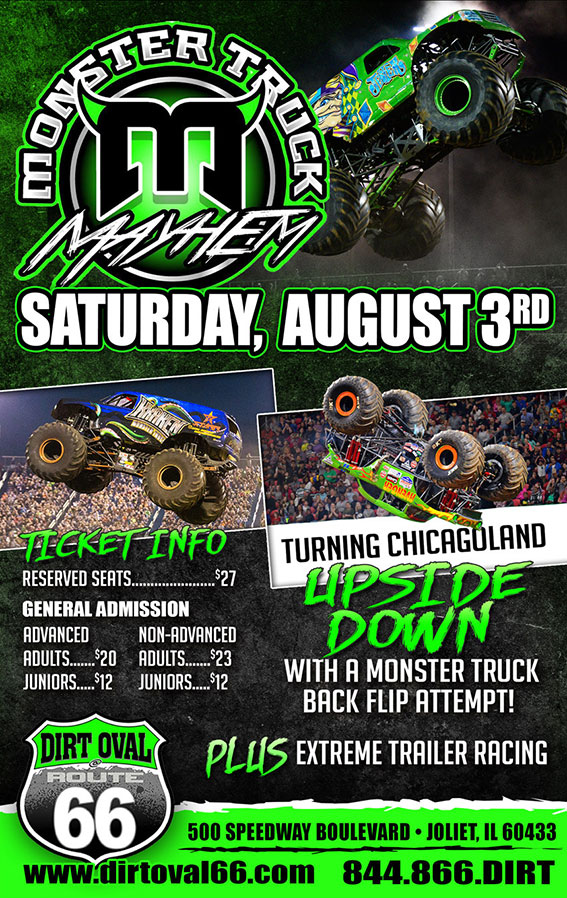 The LARGEST monster truck show in Illinois returns to The Dirt Oval on Saturday, August 3rd! We're turning Chicagoland upside down when Jim Koehler in Avenger attempts the first ever monster truck backflip in Joliet. Plus, HUGE free pit party and the insane extreme Trailer Race closes out the night. Total of 8 monster trucks scheduled to appear; Avenger, Brutus, Jester, Kraken, Buckshot, Wicked, Dragon Slayer, and Bad Company.
General admission and reserved seating opens at 4:00pm. Come early for tailgating and the FREE on-track pit party with touch-a-truck! Show time is 7:00pm and runs approximately 2 1/2 hours.
Save $3 on Adult tickets when you buy before July 22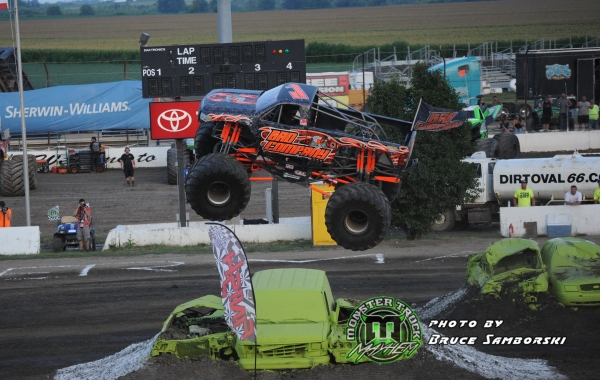 Click on either photo to view the full gallery from the 2018 Monster Mayhem event!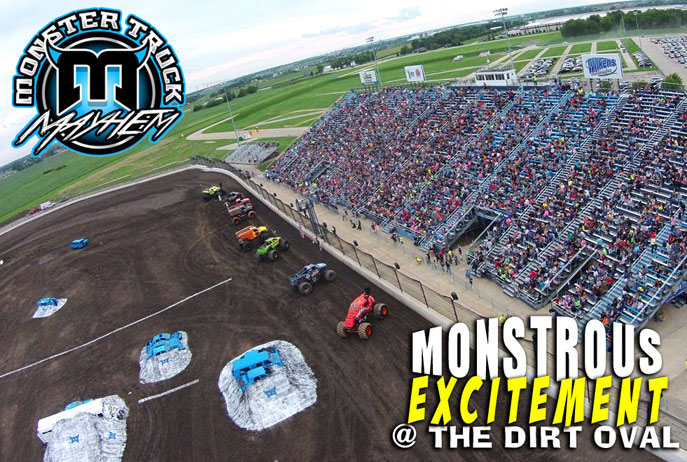 Sell Your Junk Car
Call LKQ Pick Your Part today to sell your unwanted junk car or truck today!