Racin' for Boobs 2019 Results
admin
Breast cancer gets crushed & High Risk wins the 9th annual "Racin' For Boobs!"
Tournament of Destruction Round 5 | Pink Night | October, 27, 2019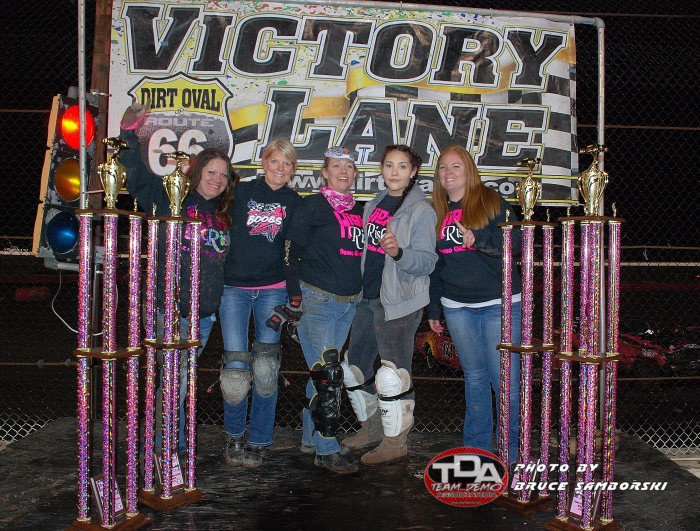 As they promised, High Risk indeed refused to lose! The ladies of Team 10 boost their overall record in this race to an astonishing 7-2, but Double D Destroyers made them earn every inch of the five laps. Mechanical mishaps hit #93 Amber Domrose and #97 LeAnn Foreman right at the green flag, which gave High Risk a massive advantage and what would seem like a sure fire victory on paper. That was not the case. #98 Shannin Jacobazzi stayed within striking distance of leader #103 Megan Decker through four laps. Meanwhile, #94 Melanie Janzen was the one doing the physical striking of her opponents with the most destructive performance ever seen in Racin' for Boobs.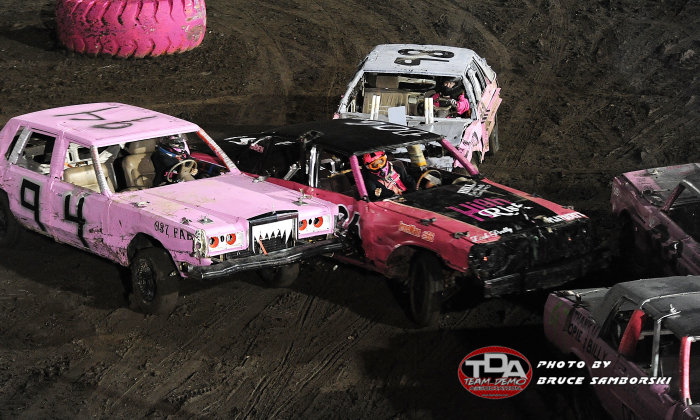 #104 Samantha Koestner, #101 Lorna Millette, and #106 Rebecca Ketelaar tried mightily to avoid and then stop Melanie's mayhem. Neither route was very successful one-on-one, but High Risk had the numbers on their side despite the Janzen juggernaut. Ketelaar took over the lead from Decker, withstood a final wipeout shot from Janzen, and scored the win to keep High Risk's reign intact.
View the entire Racin' For Boobs & Round 5 gallery with nearly 500 photos!