Racin' for Boobs 2019 Preview
admin
Round 5 event date is October 27! Tickets from 9/21 are valid
__________
Meet the drivers for the 9th annual "Racin' for Boobs" Women's Team Demolition Derby!
Demolition Divas. Queens of Crash. Vixens of vehicular violence.
All fancy words mashed together to emphasize the "Racin' for Boobs" Team Demolition Derby that features pink colored cars smashing into each inside the Dirt Oval @ Route 66 Raceway.
But those are just words.
The on-track spectacle is eight women engineered for mayhem, trying to win a race that has been on their minds for over five months, and stake claim as the best female foursome.
But, yet, this is more than a race. It is action. It is a platform. It is a brightly lit battleground to raise awareness for the on-going fight against breast cancer and defeating the enemy that affects these drivers, their friends, and loved ones.
The 9th annual event looms on October 27, which means preparations are in full 'crunch time' mode. Amid the chaos, this year's High Risk and Double D Destroyer drivers found a calm moment away from the garage to share their insight and psyche before they climb behind the wheel. Yes, to any doubters, these women are definitely hands-on with building and preparing their cars for battle.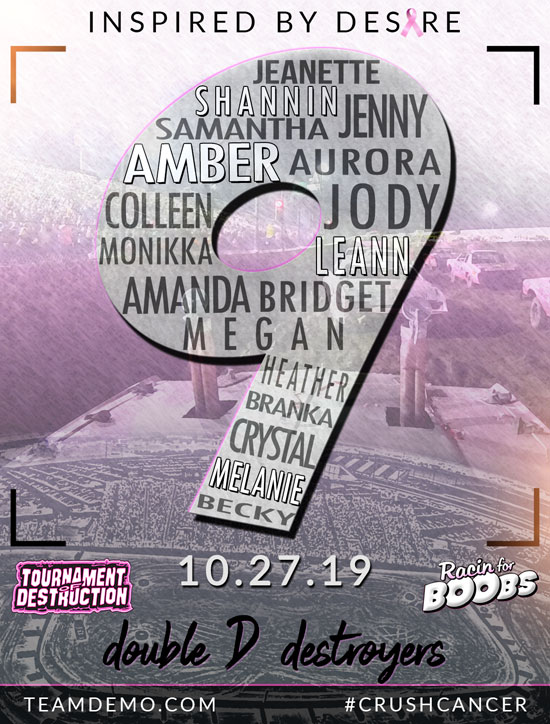 #97 LeAnn Foreman is one of the two returning Destroyers from the 2018 team and this will be her 7th overall appearance. "I am very excited to go for the trophy with Amber by my side again," said Foreman. "I look forward to it all year. It gives us a chance to break out from behind the scenes of Team Demo and have fun."
Foreman's family tree has been victimized by breast cancer including losing her grandmother and great grandmother to the disease. Also on her mind for the race, and every day, is her friend Debra Turner, who is currently fighting back, and her friend Kimberly Hufnagel who battled and crushed cancer in 2014.
#93 Amber Domrose is the other familiar face for the Destroyers. She took the checkered flag in 2017 and thus became the focal point of High Risk's offense last year. This marks her 7th consecutive entry after capitalizing on an opportunity in 2013 and never looking back. "I remember sitting in the stands watching the girls racing in September and I knew I had to do it," said Domrose.
The yearly event led Domrose to cross paths with a teammate who made a lasting impression. "I am racing to honor Double D's own two-time breast cancer survivor Jody Huffmaster," said Domrose. "She's always been a wonderful friend and has supported us since her first race in 2015." They also won the race together in 2017.
#98 Shannin Jacobazzi is back in the Double D lineup for the first time since 2016, and while her aim is certainly to win, she's being modest. "As bad as it sounds, my goal is to make a full lap and not die out, said Jacobazzi. "I've got to redeem myself from my first year."
The 2016 race is considered the best in the nine-year history of Racin' for Boobs. High speed, heavy hits all over the track, and gusty performances set the bar for all those after it. High Risk scored the victory that night, but as she eluded to, Jacobazzi's car broke down only seconds into the race leaving Double D Destroyers in a 3-on-4 disadvantage.
Besides the personal goals, she is wise to the greater purpose. "I'm racing because I keep losing family, including my aunt, cousin, and friend, due to many forms of cancers. I miss them every day," said Jacobazzi. "I also race to show all the little girls out there that if they want to do this sport that it is okay and you can do it!"
The rookie of the Double D ranks is #94 Melanie Janzen. "This is my first time for Team Demolition Derby, but not for crushing, so that'll be no issue," said Janzen.
She has plenty of motivation to help crush cancer as her mother is a breast cancer survivor. Winning the fight allowed her mom to see her compete for the last three years in traditional county fair demolition derbies, including the Compact Car demo derby series at the Dirt Oval in 2018.
"I'm mainly competing because I want to smash something," said Janzen.
Yep… she'll fit in just fine.
The only problem is that opposition is also keen on smashing, never losing, and maintaining their status as the elite force of women's Team Demo.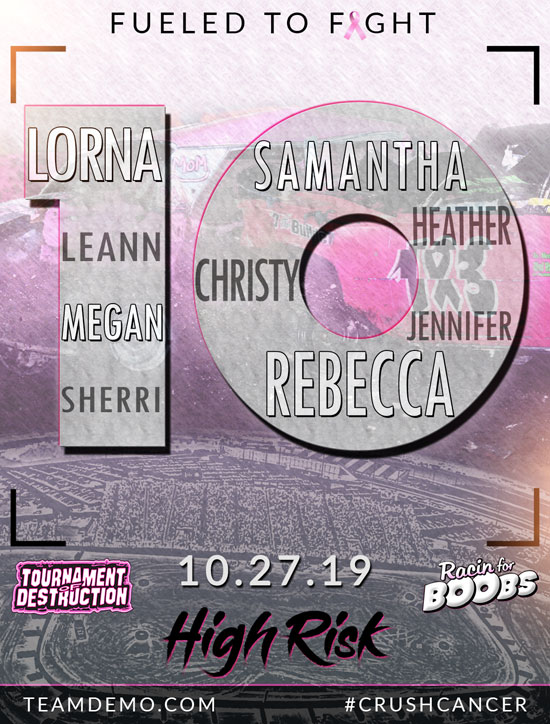 High Risk holds a 6-2 win/loss record in the event primarily built upon the skills of "the first 4" women at the inaugural race in 2011. 3/4ths of that group is back for 2019. By limiting changes to the strength of that original foundation, except for necessity, it illustrates a contributing factor of High Risk's domination. Total number of different drivers for Double D Destroyers: 18. High Risk: 9.
#104 Samantha Koestner is the newest addition to that list and has big shoes to fill substituting for Christy Millette. Koestner grew up around family and friends with a long history of racing at Route 66 and knows that competing at this level is in her blood. She's also been a constant observer and supporter of brother Nick Bowley and the rest of the Angry Citizenz.
"I love demolition derby and my goal is to take the win, of course!", said Koestner. "More importantly, my goal is to stay connected with an amazing ladies team on the track no matter what happens and share a good time for a good cause."
#106 Rebecca Ketelaar also was raised and influence by Team Demo lifestyle, but never thought she'd be the one behind the wheel. Flash forward to the present day and Ketelaar is six-time Racin' for Boobs competitor.
"I grew up watching my uncle Brian "The Crusher" Southwick race for Orange Crush at Santa Fe Speedway," said Ketelaar. "As a kid my mom took my brother and I to the junk yard to hang out and play in the cars."
Mechanical problems early in the 2017 race left her as a helpless spectator from inside her car while Double D Destroyers were victorious. Redemption came in 2018 with a solid lap running performance culminating with taking the checkered flag.
"The key to winning is staying focused on your job as either a lap runner or crusher," said Ketelaar. "Time is very precious during the race so don't detour and don't lift."
The racing bloodlines run deep for #103 Megan Decker as well. Her father Jerry and brother Ryan are both former Team Demo champions on Mean Green Machine; brother Derrick a Figure-8 cars champion; and herself a multi-time Powder Puff and demo derby champion at Sycamore Speedway. Even her son Carlos has joined the trend, racing at Sycamore and Rockford Speedway in recent years.
Beyond the family racing bond, Decker uses Racin' for Boobs to establish special bonds with victims of cancer and those who are actively fighting.
"My motivation is all the names on my car," said Decker. I get to make these survivors feel like superstars, even if it's just for one day, and it helps families remember those that have lost their battles."
Decker is approaching four years cancer free in November and is racing this year in honor of four specific individuals: her cousins and breast cancer survivors Dana Giovannetti and Paula Fick; Racin' for Boobs fan and breast cancer survivor Sue Duma; her life-long supporter and grandfather Doug "E Fresh" Decker who passed away in August at the age of 95.
"We all grew up around racing and are very competitive individuals, "said Decker, regarding her teammates and opponents. "The demo chix got together on numerous occasions during the year, but as much as we are united off the track, the gloves come off when we're on the track!"
No other Racin' for Boobs driver embodies that mindset better than Decker's teammate #101 Lorna Millette. She born into the Tournament of Destruction madness of one of the longest running families involved with Team Demo beginning in the 1970s with her father "Papa" John Millette and his dedication to the original Mean Green Machine.
"I grew up with trophies over my head; we climbed the Santa Fe Speedway fence like little monkeys; I spent so many days and nights in my father's truck towing cars to and from the track. I wouldn't change a thing," said Millette.
Another element she won't change, and one which she instills on her teammates, is to channel any off-track aggression, any 'demo drama,' and save it for race day. Four drivers, four machines, all with sights set on one goal: refuse to lose!
"All these years later, I still crave the harness burns, the heat in the cab, the roar that comes from the iron chariots and the loyal fans!"
Get your seat for the show or get out of the way. These women are more than ready to risk it all and destroy everything!