Less than 2 months until the carnage returns!
---
Angry Citizenz win 2019 Tournament of Destruction Championship!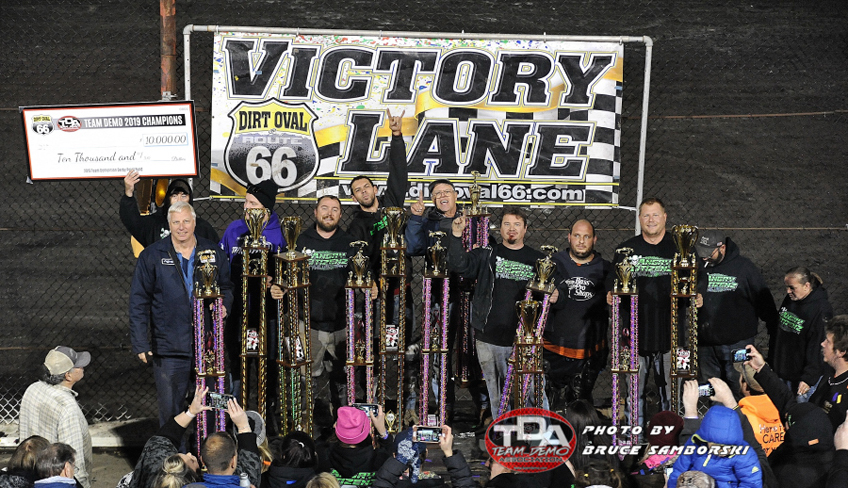 Three event wins-in-a-row capped a rise to the top for Angry Citizenz as they held off Junkyard Dogs and Mean Green Machine to etch their names in the record books as the 2019 Champions.
Thank you to all our Team Demolition Derby fans, both new and loyal, for spending a smashing Sunday at The Dirt Oval, and joining us any time this season. We hope you enjoyed the moments, memories ,and of course the carnage, that can only be found at the Tournament of Destruction!
---
Breast cancer gets crushed & High Risk wins the 9th annual "Racin' For Boobs!"

As they promised, High Risk indeed refused to lose! The ladies of Team 10 boost their overall record in this race to an astonishing 7-2, but Double D Destroyers made them earn every inch of the five laps. Mechanical mishaps hit #93 Amber Domrose and #97 LeAnn Foreman right at the green flag, which gave High Risk a massive advantage and what would seem like a sure fire victory on paper. That was not the case. #98 Shannin Jacobazzi stayed within striking distance of leader #103 Megan Decker through four laps. Meanwhile, #94 Melanie Janzen was the one doing the physical striking of her opponents with the most destructive performance ever seen in "Racin' for Boobs." #104 Samantha Koestner, #101 Lorna Millette, and #106 Rebecca Ketelaar tried mightily to avoid and then stop Melanie's mayhem. Neither route was very successful one-on-one, but High Risk had the numbers on their side despite the Janzen juggernaut. Ketelaar took over the lead from Decker, withstood a final wipeout shot from Janzen, and scored the win to keep High Risk's reign intact.
---