2020 Ticket Guarantee Policy
If an event is rescheduled due to weather, original tickets are valid for the rescheduled event date.
If an event is completely canceled due to weather, tickets will be eligible for a Ticket credit. There are no refunds.
Ticket Credits have no cash value and are only valid towards the purchase of any other 2020 Dirt Oval 66 event.
Complimentary tickets are not eligible for exchange under this policy.
ONLY TICKETS PURCHASED DIRECTLY AND ORIGINALLY FROM DIRT OVAL 66 ARE ELIGIBLE FOR EXCHANGE UNDER THIS WEATHER GUARANTEE POLICY.
How long is the demolition derby?
Tournament of Destruction events are scheduled to begin at 7:15pm and generally conclude around 9:30pm. There are a total of 7 races of Team Demolition Derby at each show, plus additional acts & entertainment, such as the Oval Car racing, Kid Krashers, donut eating contest, and the Women's Team Demo race scheduled throughout the season.
Team Demo is unpredictable! Some races may end quickly in a fury of carnage, while others may evolve into a slugfest of endurance. 3 – 15 minutes per race is the historical range at The Dirt Oval. All efforts are made to deliver an efficient production and thrilling experience.
How can I buy tickets to an event?
Online right here: Team Demo tickets
At our office located inside Gate 12. Monday – Thursday 9am-4pm.
On RACE DAY at our ticket office 9am-2pm (Go in through Gate 12) or at the main entrance gate after 4:00pm. Tickets are always available on race day.
Call our office 815-740-8000.
Where is Dirt Oval 66 Located?
The intersection of Route 53 and Schweitzer Road in Joliet, IL. General spectator vehicle entrance is East of Route 53 on Schweitzer. For the business office enter at Gate 12 and for General Parking/Attendance enter at Gate 13.
DO NOT follow race vehicles & trailers into the Gate 14 competition entrance!
Can I bring bottled water or food into the event?
One unopened bottle of water is allowed per-person. No other outside food & beverage is allowed other than for special circumstances. Call the Dirt Oval office prior to race day to make arrangements or plan to allow extra time to review the situation with a staff member at the gate.
View the entire Gate Policy for permitted & prohibited items.
Do you charge for parking?
Yes, $5 per vehicle, unless otherwise advertised.
Do you have designated motorcycle parking?
Yes, available near the front entrance.
What time does parking lot open?
Are tailgate parties allowed?
Yes! Come early and setup your own tables, tents and enjoy the atmosphere.
What is the age range for Juniors?
Juniors are 3-12 years old. Children 2 and under are free. Junior pricing applies to general admission grandstand tickets only. Reserved section seats are equal price for all ages (except 2 & under).
When is the cut-off for advance ticket pricing?
The last day for advance ticket pricing is 1 week prior to event day and applies to Adult, Junior, Family Pack, and Group discount of 15+ tickets.
Do you sell Reserved Seats?
Yes, Section 101 in the middle of the grandstand is dedicated to Reserved Seating for $27 each. If demand is high for the specific event, portions of section 401 may be designated as Reserved as well.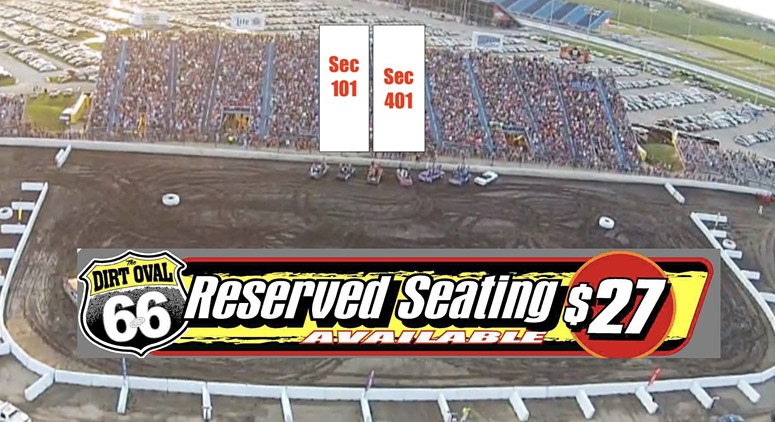 Is there assigned seating?
Yes, in the designated sections. Reserved seating is available in section 101 and, if demand is high, portions of section 401 may be designated as Reserved. All other seating is GENERAL ADMISSION. General Admission (GA) refers to seating or standing areas that are not assigned or reserved, and are occupied on a first-come, first-served basis. Please note: The first ten rows may have restricted viewing due to foot traffic entering/exiting the grandstand area. Standing and viewing event is allowed at the guardrail on ground level in front of the grandstand, which may affect visibility from the seated rows.
Can I save seats for others in my group?
Yes, but there are restrictions! You may only save the number of seats for which have been purchased for your group. You are not permitted to use tape and any adhesive material to mark off seats. Security and ushers will be monitoring this practice and you will be required to show proof of all tickets upon request.
Can I use a credit card to purchase pit passes?
Yes, we accept credit and debit cards. No PayPal.
Are pit passes available online?
Yes, and on event day as well.
How old do you have to be enter the pits for a Team Demo?
Is the pit area open after the races?
Can I leave the grandstand or pit area during the race and re-enter?
Do you accept Apple Pay when paying for Merchandise?
What time do your pre-race activities start?
Can I have a birthday or anniversary announced?
Yes, use the form on the Fan Page and make the request by the Friday before the race. Due to high demand, we do not allow same day announcements.
How many people are allowed to accompany a wheelchair in the ADA section?
We allow ONE companion/friend seat per wheelchair.
Are we allowed to smoke or vape in the grandstands?
No, tobacco products are not allowed in the grandstand area. There is a designated smoking section underneath the grandstands.
What should we do if severe weather approaches the speedway?
This facility may not provide protection from extremely high winds, tornadoes and lightning. KNOW YOUR PLAN. Severe weather alerts will be communicated by: *PA Announcements, *Twitter- @Dirtoval66
***PERSONAL PROTECTION IS YOUR RESPONSIBILITY***
What are the ticket delivery fees?
Delivery fees are PER ORDER and not per ticket. Fees include Sales Tax, Convenience Fees, Credit Card Fees, and Processing Fees.
$7 Per Order for Print at Home or Mobile Orders
$15 Per Order for Will Call
$15 Per Order for US Mail
What are the office hours?
(as of 5/1/2020) Monday – Thursday 9am – 4pm
closed Friday – Sunday
During active race season:
Monday – Friday 9am – 4pm
Race Day 9am – 2pm
closed Sunday