How can I buy tickets to an event?
Through our website www.teamdemo.com
At our office Monday through Friday 9am-5pm.
On RACE DAY at our office 9am-2pm (Go in through Gate 12) or on Race Day- you can buy tickets at the box office/gate after 4:00pm.

Tickets are always available on race day.
Call our office 815-740-8000 or 844-866-DIRT
Where is Dirt Oval 66 Located? We are located at the intersection of Route 53 and Schweitzer Road in Joliet, IL. Vehicle entrance is East of Route 53 on Schweitzer. For the Box Office enter at Gate 12 and for General Parking enter at Gate 13.
What are the ages for Juniors? Juniors ages are 3-12. Children 2 and under are free. Junior pricing applies to general admission grandstand tickets only.
When does advance ticket pricing stop and week-of start? The last day for advance ticket pricing is 2 weeks prior to event day.
Do you charge for parking? Yes, $5 per vehicle.
What time do parking lots open? 4pm
Do you sell Reserved Seats? Yes, Section 101 in the middle of the grandstand is dedicated to Reserved Seating.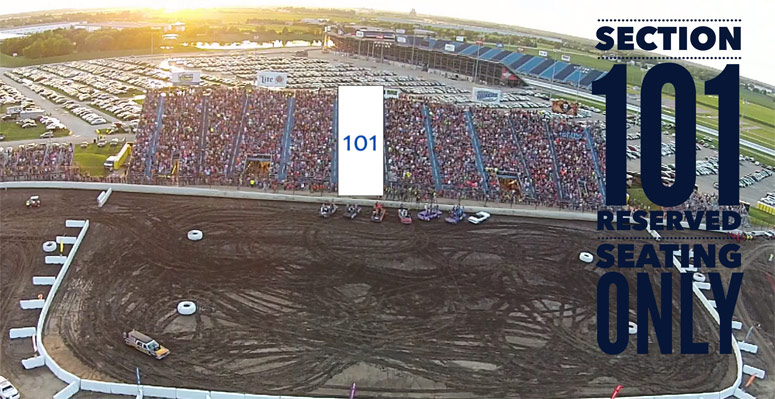 Can I use a credit card to purchase pit passes? Yes, we accept credit and debit cards.
Can I buy pit passes online? Yes, and on event day as well.
How old do you have to be enter the pits during the race? 18
Are the pits (pit area) open after the races? Yes, for all ages
Can I leave the race and re-enter? Only prior to 7pm
Can I leave the pit area during race and re-enter? Only prior to 7pm
How long are the 5-pack Season Passes for Team Demo's available? All advanced and discounted ticket prices are available until 2 weeks prior to event day.
Do you have designated motorcycle parking? Yes, available near the front entrance.
Do you accept Apple Pay when paying for Merchandise? Yes
What time do your pre-race activities start? 4pm
Can I have a birthday or anniversary announced? Yes, use the form on the Fan Page and make the request by the Friday before the race.
How many people are allowed to accompany a wheel chair in the ADA section? We allow ONE companion/friend seat per wheelchair.
Are we allowed to smoke in the grandstands? No, tobacco products are not allowed in the grandstand area.
What should we do if severe weather approaches the speedway? This facility may not provide protection from extremely high winds, tornadoes and lightning. KNOW YOUR PLAN. Severe weather alerts will be communicated by: *PA Announcements, *Twitter- @Dirtoval66
***PERSONAL PROTECTION IS YOUR RESPONSIBILITY***
What are the ticket delivery fees? Delivery fees are PER ORDER and not per ticket. Fees include Sales Tax, Convenience Fees, Credit Card Fees, and Processing Fees.
$7 Per Order for Print at Home or Mobile Orders
$15 Per Order for Will Call
$15 Per Order for US Mail
What are the office hours? Monday through Friday from 9am to 5pm and on race day (Saturday) 9am to 2pm.
Is there assigned seating? Yes, Reserved seating is available in Section 101. All other seating is GENERAL ADMISSION. General Admission (GA) refers to seating or standing areas that are not assigned or reserved, and are occupied on a first-come, first-served basis.
Please note: The first ten rows may have restricted viewing.